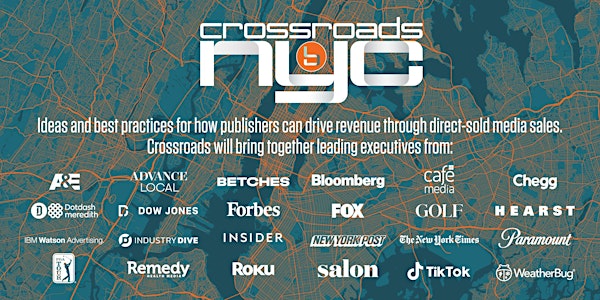 Publisher Revenue Crossroads
Digital publishing is at a crossroads. Join 90+ publisher revenue executives for a full day on this critical topic.
When and where
Location
SECOND floor nyc 849 6th Avenue New York, NY 10001
About this event
About Publisher Revenue Crossroads
On October 20, we're hosting a one-day event focused on nothing but direct-sold and programmatic direct. Coming out of Base Camp, it's clear that the direct-sold business needs more discussion.
All of our sessions are roundtable discussions with a focus on sharing and establishing best practices. We believe the complexity of direct sales processes accounts for more lost revenue and profitability more than competition with other direct sold organizations. So let's focus each conversation on how to collaborate on making direct sold a more profitable approach to publisher revenue goals.
Reach out to us if you're interested in attending by sending an email to support@beeler.tech.
Agenda Overview
Morning Sessions
8:00 am - 9:00 am: Registration, breakfast, and networking
9:00 am - 9:10 am: Welcome Remarks from Rob Beeler
9:10 am - 9:50 am Keynote by Warren Zenna: Are You Asking the Right Revenue Operations Questions?
Throwing people and tech at your revenue problems is a fruitless endeavor without first having a proper framework. Warren Zenna, Founder and CEO of the The CRO Collective, helps organizations align their sales, marketing, operations, and customer success functions.
Warren will help us kick off the day by outlining a roadmap to getting these teams on the same page and scaling revenue.
10:00 am - Morning Breakout Sessions
Direct Sold Product Development (Option A)
Your products and what you are selling are just the beginning. At times, it can feel like new product offerings are driven by third parties and their capabilities versus what might be the right fit for you as a publisher and your clients. Let's break down the steps to building products that put the customer at the center of your process.
Will Programmatic Direct Take Off? (Option B)
We know that what is possible in the open marketplace can be constrained by the combination of cookie deprecation and/or state-driven regulation policies. This situation will create an opportunity for programmatic direct (PG & PMP deals and the like) to become an even more important revenue source for publishers. We should discuss what we collectively need to do to take advantage of this opportunity and not be such a buy-side-driven industry.
11:00 am - 11:50 am - Mid-Morning Breakout Sessions
RFP Should Not Mean Rushed, Forced, and Painful (Option A)
Since RFPs signal a buyer's interest in working with us, why do most of us cringe when we see one come into our inbox? Is it because they can feel like a midterm test we haven't studied for? We'll discuss best practices that will make RFPs more like a pop quiz on our favorite subject.
Diversified Revenue Streams Require a New Measurement Approach (Option B)
When publishers diversify their product sets through advertising, subscriptions, e-commerce, events, etc, those streams can complement each other, but can also compete. Let's discuss better ways of measuring revenue success across multiple products.
11:50 am - Morning Wrap-Up
12:00 pm - 1:00 pm: Lunch & Networking
Afternoon Sessions
1:00 pm - 1:30 pm: Long-term Thinking is Where It's At. Easier Said Than Done
Your relationship with your audience is likely a key component of future-proofing your business. That relationship, however, can be continually tested by short-term revenue thinking. How do we make publishers understand that without an audience, everything else is for naught?
1:30 pm - 2:20 pm: Afternoon Breakout 1
Campaign Kick-off Chaos? (Option A)
Once the contract is signed, much can still be won or lost. Every publisher is different, as is what works and what doesn't. These differences will make for a great conversation to generate new ideas on how to improve your process.
Training Sales on Ad Tech (Option B)
Salespeople only need to know enough to do their jobs and don't need to be ad tech experts. Where to draw that line, however, shifts as our industry becomes more complicated and the sales process itself becomes more consultative. How do you arm your sales teams with what they need to know to be more successful out in the field?
2:30 pm - 3:20 pm: Afternoon Breakout 2
Translating one department's KPIs into another's (Option A)
Over the course of the year, we heard that some publishers were developing the role of "translator". This new role was designed to help bridge the data gap between multiple departments and help measure success within their own area of focus. Let's explore how data moves from one side of the company to another and establish best practices.
How does your experience in direct-sold translate into the future? (Option B)
Let's not beat about the bush: whatever your role is within the organization, it will have to evolve, or it may disappear. There will always be pressure to cut costs, and it's your job to make sure you use that pressure to advance your career. Publishers will always need smart problem solvers – let's talk openly about how to be needed.
3:30 pm - 4:20 pm: Afternoon Breakout 3
Mapping the direct-sold process at a deeper level
The direct sold workflow [include link where possible: https://www.beeler.tech/DigitalAdvertisingDirectSoldSellerWorkflow] doc we recently released was only the first version. We need to keep reviewing it, refining it, and further breaking things down. The end goal is to get to the point where we can understand what each part of the process truly costs; and if we can improve it.
Publisher first-party data strategies need help being sold
Pubs sit on a gold mine of data. Or do they? Buyers don't seem to pay much attention to pub data, and they won't blink an eye while 3rd-party cookies still prevail. So, do we sit on our asses and wait until the 3rd-party cookie well runs dry, or do we start making first-party data matter now?
4:20 pm - 5:00 pm: Now We're All Aligned. What About the Buy-Side?
The title is a bit...aspirational and while we aren't all in lockstep, we should talk about how to collectively work with the buy side to make direct work better for them. Let's talk about what that might look like.
Evening Reception
5:00 pm - 6:00 pm: Cocktails and mocktails - AdOps style!