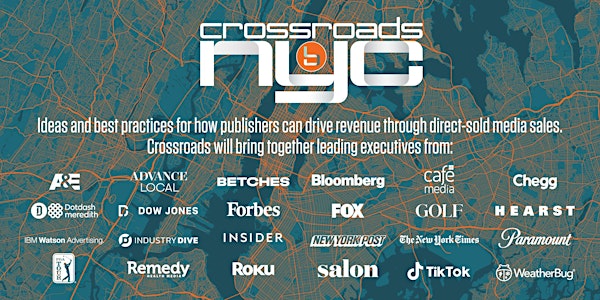 Publisher Revenue Crossroads
Digital publishing is at a crossroads. Join 90+ publisher revenue executives for a full day on this critical topic.
When and where
Location
SECOND floor nyc 849 6th Avenue New York, NY 10001
About this event
About Publisher Revenue Crossroads
On October 20, we're hosting a one-day event focused on nothing but direct-sold and programmatic direct. Coming out of Base Camp, it's clear that the direct-sold business needs more discussion.
All of our sessions are roundtable discussions with a focus on sharing and establishing best practices. We believe the complexity of direct sales processes accounts for more lost revenue and profitability more than competition with other direct sold organizations. So let's focus each conversation on how to collaborate on making direct sold a more profitable approach to publisher revenue goals.
Reach out to us if you're interested in attending by sending an email to support@beeler.tech.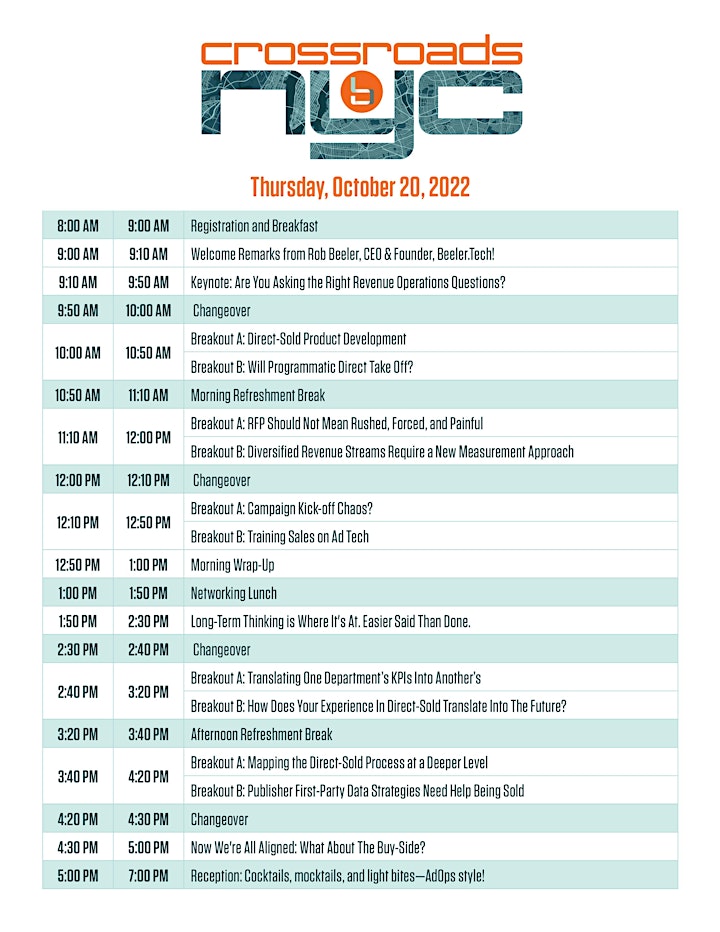 The Vibe
We've been using the phrase "lo-fi" to describe the event and it's on purpose (not because we're being cheap). There are no presentations except the keynote. Sorry, no panels to nod off during. We're stripping the conference down to the essential piece: conversations among peers. So on one hand, it's casual and on the other, we want you engaged and getting the most out of the event. We think those two things work hand in hand.
That vibe applies to the dress code. Be comfortable. For some, that's a blazer or nice shoes. For others, we expect sweatshirts and jeans. You be you and you'll know you've dressed appropriately. You're going to be very active and might find yourself moving chairs around for closer conversations.
Conduct
This is key: we need you engaged and actively working to make the most of the event. Review the agenda before you arrive and come with questions and thoughts.
Stick around. Please don't dip in and dip out. Make this your day to truly connect with others on pressing issues you care about. Commit to the whole day or as much of the day as possible.
Bring a laptop or tablet. We really want you to take notes and share them.. A little secret – those notes will help us create additional discussions after the event to keep conversations going.