Description
Have you always wanted to publish your own book?

Is your budget holding you back from changing the world with your words?

Do you have old journals sitting around and want to know how to turn them into a book?

Do you want to learn the secret to printing your book without spending a penny?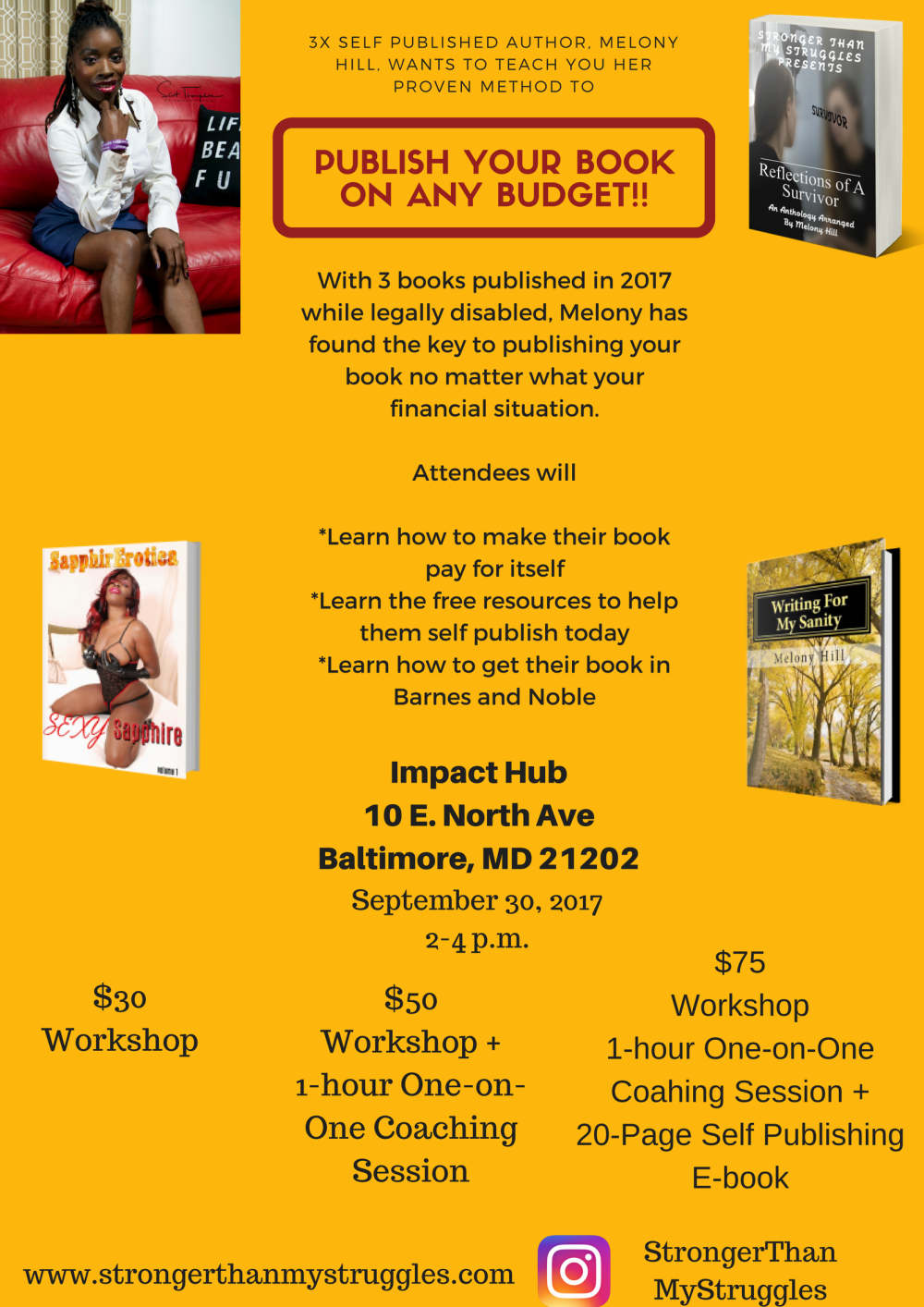 If you answered yes to any of the questions above, this may be the workshop for you.

Up until March of this year, I was just like you, I had been saying for years, "I'm going to publish a book." Truthfully, I knew that I had enough content to publish multiple books. I, like many, was under a false impression of how much money was required to become a published author in 2017.

I learned, that like many other things I attempted in life, I had to have one of two things to do it effectively, time or money. What I have not had money for, I've invested the time to learn how to do myself. It paid off. Not only did I make a profit on my first self-published book before I sold one copy, but I repeated it with my second book. My third book, I released and sold 65 print copies within 36 hours and 24 hours later I had sold 125 print copies


I've challenged myself to publish six books in 2017 and at the rate I'm going, I just might, I recently published my fourth E-book. the crazy part is the books are not only paying for themselves, but they've turned into a lucrative new business.

I went to a workshop where I picked up a few tips and the host wanted to help us self publish for $3,000. I've published three books and haven't spent that, being who I am, I felt the need to teach others how to do it for much less. I want to see us all win, I'm small business friendly and want to pass on the secrets,tips and FREE resources I've picked up as I took on this self publishing journey.

For those of you who need more guidance on how to publish the work you already have and would like to schedule a one-on-one-coaching session, please do not hesitate to do so. I've slashed my private coaching price just for attendees. One-on-one sessions are generally $50, with the workshop, I'm dropping $30 from my normal rates to include it with the workshop for $50. It's a win/win.


I've created a 20-page PDF download with all of the things we will go over in the workshop and MORE. With this 20-page E-book, you will be able to go from Wordpress to Barnes and Nobles right away. This step-by-step guide, with diagrams, will walk you through the process of publishing not only E-books but print books as well. With the instructions inside and the information you get from the workshop, you'll be a self-published author in no time. Self-Publish with Ease using Amazon & Createspace by itself is available for $19.99 in my online store but along with the workshop, you can a copy with your discounted one-on-one coaching session after the workshop all for only $75

That's right for only $75, you will be able to attend the workshop, schedule a one-on-one session to discuss your project and receive personal guidance on your self publishing journey AND a 20-page step-by-step self publishing guide.

Don't be fooled into thinking it takes a lot of money, know how or a big publisher behind you to become a published author. It just takes a little time invested in yourself. You too, can see your book on the shelves of Barnes and Noble.

Once you learn my proven method, you'll be publishing book after book as well.

RESERVE YOUR SEAT TODAY
Date and Time
Location
Refund Policy