Description
Acompáñanos este 30 de enero en Publicize Connect, un evento exclusivo que busca conectar emprendedores, startups y a los mas importantes medios de comunicación de la ciudad de la eterna primavera.
Publicize Connect escogerá 6 nuevos emprendimientos emergentes para participar en una competencia en la cual tendrán 1 minuto para presentar su proyecto a un grupo de jueces de los más influyentes medios del país, con el objetivo de dar a conocer los emprendimientos más prometedores de Medellín.
La asistencia es gratuita y habrá consumo libre de snacks, además de una sesión de networking posterior al concurso donde podrás conectar con periodistas de los medios asistentes.
Nuestro panel de jueces incluirá periodistas y editores de:
- El Colombiano
- Entrepreneur Magazine
- Colombia Reports
- The Bogotá Post
- Social Geek
- The Sociable y Otros Medios Que Serán Anunciados Pronto
Si eres una startup o emprendimiento de alto impacto que recaudó menos de $ 2M USD y estás interesado en participar en la competencia, escribenos a info@publicize.co. Las startups y emprendimientos que participaron en la compettencia anteriormente, lograron recaudar cientos de miles de dólares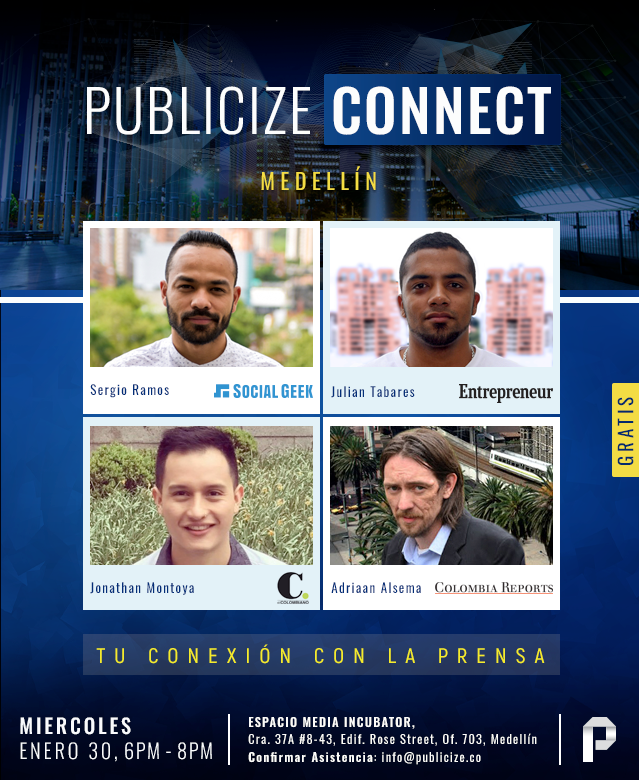 Join us in Medellin January 30 for an exclusive event celebrating media and startups in the city of Eternal Spring. Publicize Connect will be selecting 6 rising startups and a group of esteemed media judges to partake in a startup pitch competition that's set to showcase some of Medellin's most promising tech up-and-comers.
Attendance is free, refreshments are provided, and all are invited to stick around for the networking session that follows! Attendees there can also connect and meet the media.
Our panel of judges will include journalists and editors from:
- El Colombiano
- Entreprenur Magazine
- Colombia Reports
- The Bogota Post
- Social Geek
- The Sociable & More To Be Announced Shortly
If you're a high impact startup that's raised less than $2M USD, and you're interested in participating in the competition, please write info@publicize.co. Prior startups have gone on to raise hundreds of thousands.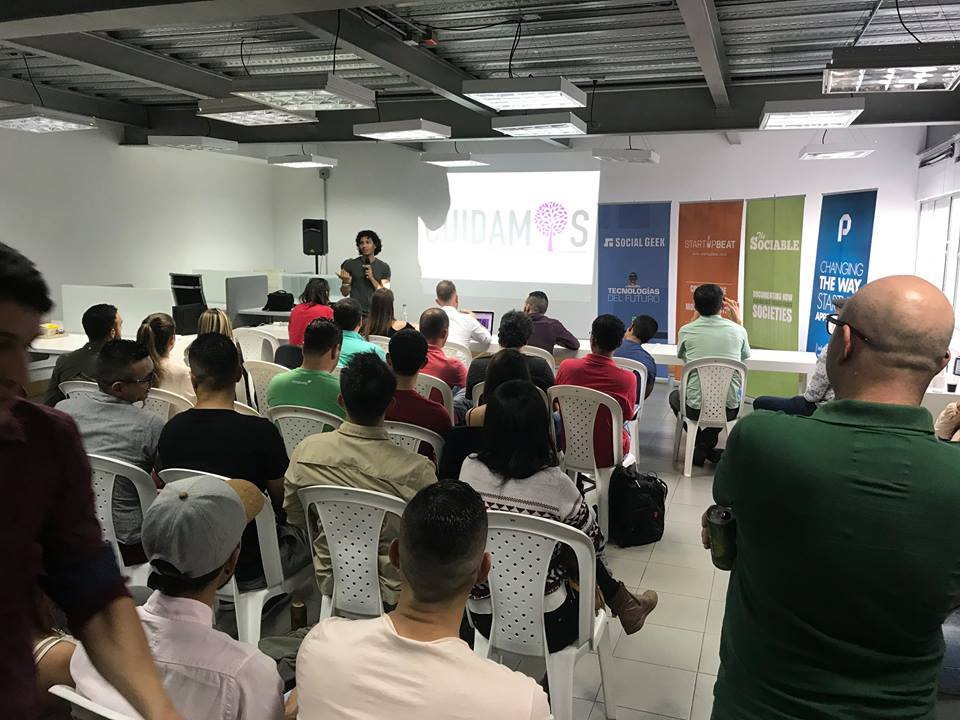 EL COLOMBIANO
Jonathan Montoya, technology journalist at El Colombiano. He is pursuing a Master's Degree in Communications with an emphasis in digital.

COLOMBIA REPORTS
Adriaan Alsema, Founder & Editor-in-Chief of Colombia Reports. Born and raised a Dutchman, Adriaan has been living in Colombia since 2008.

ENTREPRENEUR MAGAZINE
Julian Tabares is a Contributor at Entreprneur Magazine en Espanol. He also leads editorial at Microsoft Insider and contributes to Social Geek.
SOCIAL GEEK
Sergio Ramos is the Editor-in-Chief at Social Geek, which is one of the largest Spanish-speaking technology publications. Sergio's work has appeared on publications such as El Colombino and NY1 Noticias.
THE BOGOTA POST
Arjun Harindranath is the Editor at The Bogota Post, which is one of the largest English newspapers in Colombia. The Bogotá Post aims to provide concise, factual and engaging stories in English about Colombia. Our specialised and high quality content seeks to create bridges between Colombian and international perspectives.

THE SOCIABLE
Tim Hinchliffe is the Editor-in-Chief at The Sociable, which was one of Ireland's largest tech publication. The publication was the winner of the Best Technology Blog at the 2013 Blog Awards Ireland. Sociable.co receives approximately 60,000 visits per month.

MORE MEDIA TO BE ANNOUNCED SHORTLY