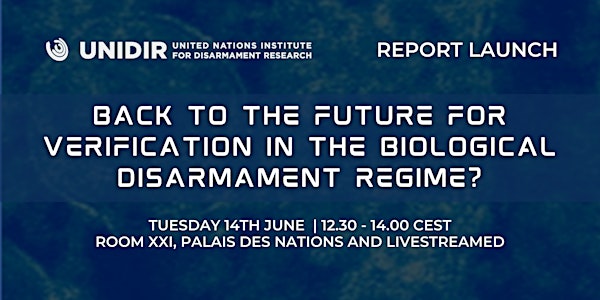 Publication Launch: "Back to the Future in Verification for the BW Regime?"
Launch of a new UNIDIR report titled "Back to the Future for Verification in the Biological Disarmament Regime?"
About this event
WHAT:  The United Nations Institute for Disarmament Research (UNIDIR) is pleased to invite you to the launch of a new report titled Back to the Future for Verification in the Biological Disarmament Regime? This report considers elements of continuity and change evident in the BWC regime over the last two decades since the collapse of the Protocol Negotiations. The report proceeds to outline three strategies that could form a balanced package of measures for consideration by BWC States Parties at the Ninth Review Conference in November of this year.
WHEN & WHERE:  The event will take place on Tuesday 14th June from 12.30 to 14.00.
For in-person participation in Room XXI of the Palais de Nations, in Geneva, please register here: https://indico.un.org/e/BackToFutureBWC
To receive the link to the live online broadcast, please register in this Eventbrite page.
SPEAKERS:
• Izumi Nakamitsu – Under-Secretary-General and High Representative for Disarmament Affairs, UNODA - Opening remarks
• Robin Geiss – Director, UNIDIR. Opening remarks
• James Revill – Head of the WMD Programme, UNIDIR
• Richard Lennane – Independent Consultant
• María Garzón Maceda – Research Assistant, UNIDIR
PARTICIPANTS: UNIDIR encourages the participation of representatives and experts specialized or interested in issues pertaining to biological weapons, biological disarmament and the Biological Weapons Convention (BWC).
REFRESHMENTS: A light lunch will be available for in-person participants.