About this Event
Born and raised in Ponce, Puerto Rico, Rick Moon has been writing, producing, and performing music in and around South Florida for the better part of a decade.
His forthcoming third album, Electric Lunch, showcases a significant sonic expansion from his previously more subdued and folksy, Cottage Scenes. This self-produced concept album with big power pop hooks points to Rick's lifelong love of XTC, Todd Rundgren, Mersey Beat, and classic British rock at large.
Electric Lunch is a paradox-- a bright and cynical album addressing the hope of post-addiction and the existential ennui of seeing the doomed world with clear eyes for the first time. The power pop is balanced with tender ballads and confessionals, that rip at your guts and remind you why the pain is worth pushing through.
Upcoming single Magic Pity, which will be released June 19th and was prominently featured in Billy Corben's documentary, Magic City Hustle which premiered at the Miami Film Festival earlier this year.
Public Works will be releasing Rick Moon's third full length Electric Lunch, July 23rd. Come celebrate at the release party with support from Rachel Angel and Dracula.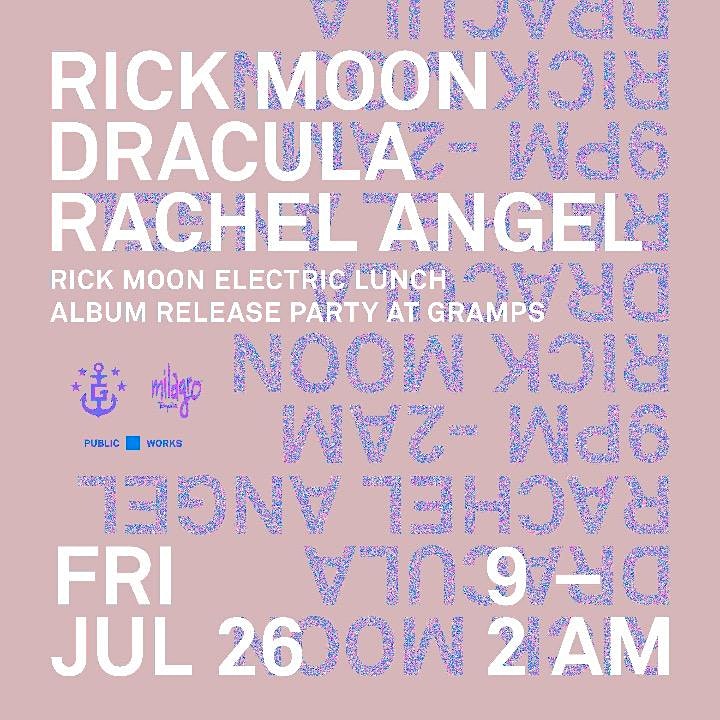 First 50 guest to register for tickets get a free tequila shot sponsored by Milagros!