Description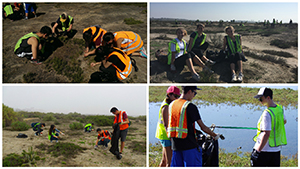 Want to help the community and your local environment, and have fun doing it? At this event, participants have the opportunity to help restore and maintain the Bolsa Chica Wetlands! Participants will help this local treasure with invasive plant removal, debris disposal, and/or native plant installation.
Public Service Days are held on the second Sunday and last Saturday of every month, and run from 9:00 AM until 12:00 PM. Please come in closed-toe shoes, as you will be working in off-road terrain! Come prepared with sun protection with a water bottle, sun glasses, sun screen, and/or a hat!
We recommend arriving 10 - 15 minutes early to secure parking. To that end, we also encourage carpooling whenever possible!
If you have any questions, please contact us via phone at (714) 846 - 1114 or via
e-mail at kenny@bolsachica.org.
FAQs
I want to reserve multiple spots for my group. How do I do that?

Unfortunately, group registration is unavailable for these events. This is partly because our online registration process includes a volunteer waiver form, which is unique to each volunteer and as such cannot be shared among multiple people. You will have to have every interested member of your party visit this website to sign up individually.

Are there ID or minimum age requirements to enter the event?
There is no strict minimum age requirement to attend this event, but we ask that any children under 13 years of age be accompanied by a parent and/or guardian. There will be adult supervision during this event.
What can I bring into the event?
We suggest bringing sun protection, such as sunglasses, a hat, and/or sunscreen to protect you from the sun's rays. Bringing layered clothing is also recommended, as weather here at the wetlands can change rapidly from cool and overcast to clear and sunny in as short as an hour. Bringing water is also strongly recommended; hydration is key when working outdoors. We also ask that you wear closed-toed shoes, as we will be working in off-road terrain and closed-toed shoes are extremely important for safety

You cannot bring dogs, bikes, or drones to this event. These items/companions are prohibited while on the reserve; bringing these can lead to getting ticketed by the reserve warden.
Do I have to bring my printed ticket to the event?
You do not have to bring your printed ticket to the event. We will have your name on the list of RSVP's, so all that you will need to do is check/sign in.
I don't see a particular date on the drop-down list, but it's a 2nd Sunday or last Saturday. Why is that?
If the date you are looking for is not displayed, then the date in question has been cancelled. This is usually due to a schedule conflict with another event on that same day.