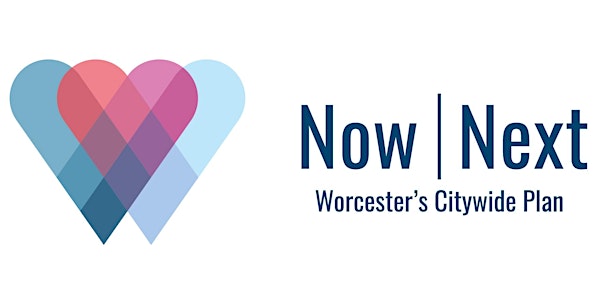 Public Visioning Workshop for Worcester Now | Next Citywide Plan
Location
Worcester Senior Center
128 Providence Street
Worcester, MA 01610
Join us for the first public Worcester Now | Next Citywide Plan event! Explore patterns in the city and refine a vision for the future.
About this event
Help refine the focus and key issues for the Now | Next planning process and share your vision for Worcester's next chapter! At this interactive workshop, you'll be able to explore current patterns and trends in Worcester through maps and graphics that address topics such as housing, transportation, economic opportunity, land use, and more.
The planning team will also present initial findings from the Spring Citywide Survey that ran during the months of April and May.
Join us for the in-person Public Visioning Workshop
Thursday June 23, 2022
5:30 PM – 7:30 PM EDT
Worcester Senior Center: 128 Providence Street Worcester, MA 01610
There will be a virtual Public Visioning Workshop hosted on Zoom for those not able to attend the in-person event . See details below.
Accessibility & Translation
The Worcester Senior Center has a handicap-accessible entrance, free parking and is accessible via WRTA bus routes 11 and 1. Spanish and American Sign Language (ASL) interpreters will be attending both the in-person and virtual events. If you are interested in helping us reach more community members, please contact our community organizer, Guillermo Creamer Jr. at nownext@utiledesign.com.
Upcoming Events: *Virtual* Public Visioning Workshop
There will be a virtual version of the Public Visioning Workshop on Thursday evening, July 7. The workshop will be hosted as a virtual Zoom video conference, using tools such as live polling and breakout rooms for smaller group dialogue and activities. Details on how to register will be provided soon.
Upcoming Events: Summer Listening Tour
The in-person and virtual Public Visioning Workshops will be followed by a series of Listening Tour events which will provide an opportunity for more members of the Worcester community to share their input on the same topics. These Listening Tour events will be scheduled for July and August, dates and times to be confirmed by the end of June.
Visit https://now-next.worcesterma.gov/events/ to learn more about the Worcester Now | Next process.