PUBLIC VENTURE CAPITAL: A GROWTH PATH YOU NEED TO EXPLORE
Description
If you have a growing business and need funding, then you should attend this event.
Find out what public venture capital is and how it is different from traditional VC funding. Also see why it is a viable funding alternative for early-stage U.S. companies to grow, pivot and acquisition.
Join us for a breakfast seminar to learn how to access public venture capital in Canada (without needing to move there). You will meet capital providers, dealmakers and advisors who will discuss why this is a growth path you should explore.
Our target audience is founders of companies, entrepreneurs, VCs and US investment and advisory firms.
---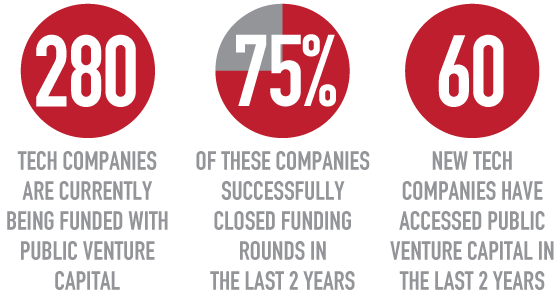 ---
Agenda:
7:45 am - Registration & Breakfast
8:15 am - Public Venture Capital Seminar
10:30 am - Networking

Pre-arranged one-on-one meetings can also be requested. If your company has revenue and you are interested in meetings with capital advisors, click the correct option when registering and we will contact you.
---
Capital Providers:

Capital Market Partners:

---
Speakers:
Kathy Butler - Managing Director & Head, CIBC Capital Markets. Partner, BC Technology Social Venture Partners.
Blake Corbet - Managing Director & Head of Technology and Healthcare Investment Banking, PI Financial Corp.
Christian Gauthier - Partner & Co-Leader, Capital Markets & M&A, Bennett Jones LLP
Guy Halford-Thompson - CEO, BTL Group Ltd., entrepreneur, investor, thought leader and technology evangelist.
Richard Raymer - Partner, Dorsey & Whitney LLP
Hosts:
Brady Fletcher - Managing Director, TSX Venture Exchange
Andy Creech - Director, Capital Formation, Toronto Stock Exchange & TSX Venture Exchange
Julia Yan - Vice President, Regional Sales, Listings Development, Toronto Stock Exchange & TSX Venture Exchange
How can I contact the organizer with any questions?
Email maureen.butcher@tmx.com