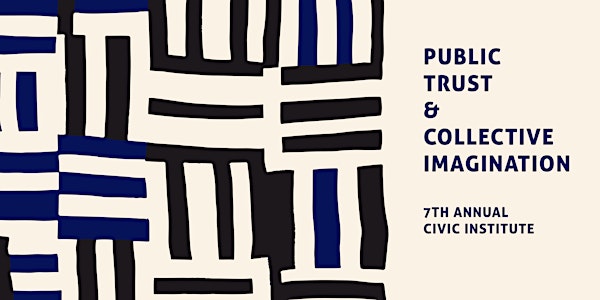 Public Trust & Collective Imagination: The 7th Annual Civic Institute
The 7th Annual Civic Institute will explore the importance of building public trust and collectively reimagining civic life in Alabama.
When and where
Location
American Village 3727 Hwy 119 Montevallo, AL 35115
Refund Policy
Refunds up to 7 days before event
Eventbrite's fee is nonrefundable.
About this event
This year's Civic Institute explores the critical role that trust plays in building and sustaining public life. You will hear from Alabamians working to mend the frayed bonds of public trust in our state so that we may collectively imagine a better future for our communities. From investigative journalism to soul food diplomacy, you'll have a front-row seat to hear all about the restorative work being done to bring Alabamians closer together.
Keynote Address by Dr. Bernard LaFayette, Jr.
Dr. Bernard LaFayette, Jr. is a veteran of the Civil Rights Movement, a minister, educator, lecturer and an expert on the strategy of Nonviolent Social Change. He has devoted his life to heeding Dr. Martin Luther King, Jr.'s call to "institutionalize and internationalize nonviolence." Dr. LaFayette was a co-founder of the Student Nonviolent Coordinating Committee (SNCC) in 1960. He was a leader of the Nashville Movement Lunch Counter Sit-Ins of 1960, and the Freedom Rides of 1961.He directed the Alabama Voter Registration Project in Selma in 1962. He was appointed National Program Administrator for the Southern Christian Leadership Conference (SCLC) and National Coordinator of the Poor People's Campaign by Martin Luther King, Jr. in 1968. An ordained minister, Dr. LaFayette earned his B. A . from the American Baptist Theological Seminary in Nashville, Tennessee, and his Ed.M. and Ed.D from Harvard University.
Panel Discussions:
Soul Food Diplomacy: Exploring Shared Histories & Building Community Around the Table
Nothing brings people together quite like food. Sharing a meal with friends and neighbors is an act of love that builds trust and deepens our capacity to listen and learn from each other, even when we don't agree. In this session, you'll hear from Alabamians exploring the culinary history of our state while using food to nourish the soul of their communities by bringing people together around the table. 
On the Front Lines of History: Journalism & Collective Memory in Alabama
From the Gulf Coast to the Iron City, Alabama journalists capture snapshots of our great state through their local lens. Each county, city, and citizen tells a story that can't be found anywhere else. Learn how these Alabama journalists work within their communities to shine a light on problem areas, breathe new life into old media, and look for the good news even in tough times.
Where You Are With What You've Got: Building Civic Spaces in Your Neighborhood
How can we build physical spaces that bring people together and foster a sense of community? How can our built environment instill a sense of belonging within us? We'll explore these questions as we hear from Alabamians creating civic spaces in their own communities with the resources at hand. Whether it's a local museum, regional arts organization, or neighborhood revitalization effort, you'll leave inspired.
Reimagining Reentry: Democratic Practices with Returning Citizens
How can we strengthen the bonds of trust between formerly incarcerated Alabamians and the communities to which they return? In this session, you'll hear from organizations that are working alongside returning citizens to reincorporate them into life on the outside. Panelists will discuss the barriers to participating in public life that returning citizens face, and what we can all do to make sure that their perspectives are heard.
From Classroom to Community: The Next Generation of Dialogue & Deliberation
Now more than ever we are facing a world growing increasingly divided and hostile. And in these harsh conditions, young people are finding their voices and stepping into this environment and bridging the divide with respect and open minds. You'll hear from educators using dialogue and deliberation to prepare their students to seek understanding in the face of adversity. 
With the People: The Role of Active Citizenship in Local Government
We are all familiar with fulfilling our civic duty by casting our vote each election cycle. But how do we engage with our municipal government after exiting the polls?This session will explore the vital role citizens play in their local government every day. Whether you choose to serve on a local committee or have your voice heard at city hall, the collaboration of citizens and local government is essential.
Breakfast and lunch will be provided.