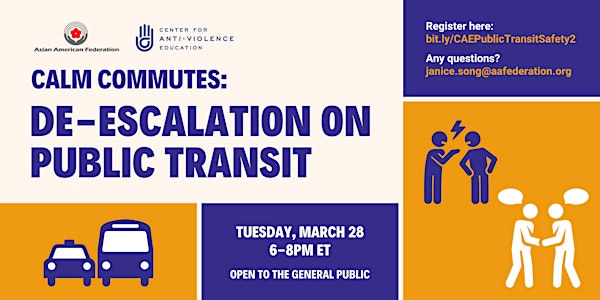 Public Transit Safety: De-escalation on Public Transit
Join Center for Anti-Violence Education and the Asian American Federation for the 2nd session of our Public Transit Safety series.
By Asian American Federation
Date and time
Tuesday, March 28 · 3 - 5pm PDT
About this event
Public transit is an essential part of many of our lives. This workshop series is for anyone who wants to feel safer riding the subway or bus. The curriculum includes verbal de-escalation strategies as well as physical techniques to help you get away safely and help others stay safe.
This two-hour interactive virtual workshop will address current safety concerns involving public transit in New York City and discuss ways to prevent or de-escalate situations. You will walk away with tools and strategies for handling potential conflicts and work through scenarios to put the skills into practice.
You will learn:
• Situational awareness
• Signs of agitation
• Nuanced information about homelessness and mental health
• Verbal de-escalation strategies
• Tactics to avoid or mitigate a conflict
To register for the other sessions of the Public Transit Safety series, follow the links below: