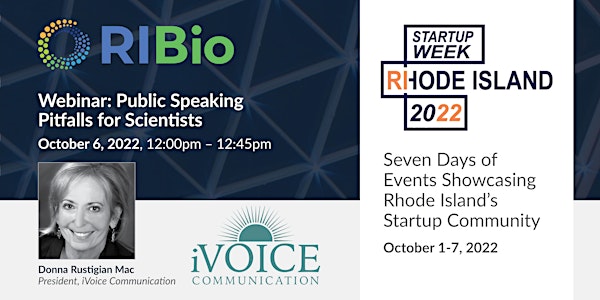 Public Speaking Pitfalls for Scientists
In this webinar, you'll learn the 3 most common communication 'pitfalls' of people in the sciences, and how to diminish them.
About this event
Have you ever wondered why you're not as influential as you'd like to be? It's easy to fall into old patterns of communicating, or not communicating effectively. In this webinar you'll learn the 3 most common communication 'pitfalls', people in the sciences face, and how to develop the skills to diminish them so you can speak with greater ease and confidence.
In this session you'll...
• Explore your specific communication style
• Consider the steps to take to communicate more confidently and naturally
• Apply these practices so you can communicate more successfully
Donna Rustigian Mac is the President of iVoice Communication, a company dedicated to creating healthy-human business connections through updated, 21st century communication skills. Donna works with individuals and companies who understand the power of their people. As people expand, business expands.
Donna's distinguished career includes 30+ years in communications: In the the media, as an executive communication coach, and workforce trainer. Donna is also a mindfulness teacher and a change facilitator, studying with Dr. Daniel Goleman (Emotional Intelligence) and Dr. Judson Brewer, (Brown University/Mindsciences). This concentration enables Donna to help people break old communication patterns/habits so they can update their communication skills and integrate them into today's modern business environment.
www.iVoiceCommunication.com