About this Event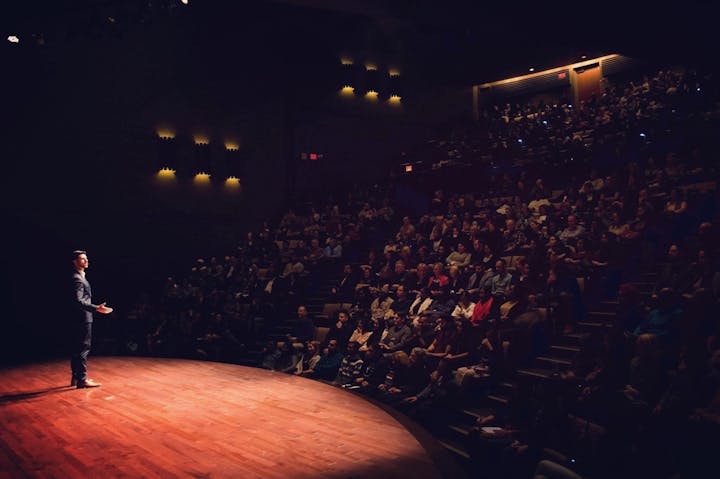 Do You Own A Business?
Do You Want To Get Into Business?
Do You Want To Build A Big Team Or Following In Your Business?
Do You Want To Become A HIGHLY-PAID, OVER-BOOKED SPEAKER?
-
WHAT IS THIS AND WHY SHOULD I COME?
The Art Of Public Speaking Is The ONE SKILL You Must Develop To Succeed In Your Life And Business. Join Armin Shafee For An Exclusive Public Speaking Masterclass On Monday Sept 23rd, 6:30PM - 10:00PM As He Shares With You The Secrets To Succeeding In Public Speaking And How You Can Start Multiplying Your Income Today.
The Only Ones In History Who Have Changed This World, Had Confidence In Their Own Abilities And The Skill To Effectively Communicate Their Message And Ideas To Others.
Public Speaking Is The Gateway To That Skill.
YOU'RE GOING TO LEARN:
How To Become A Highly-Paid Speaker (WithOUT Needing ANY Experience, Credentials Or Qualifications To START)
How To Easily Write Your Own Cheques As A Speaker... No Matter How BIG! (WithOUT Needing To Justify Your Value Or Negotiate Your Worth EVERY TIME...)
How This ONE SYSTEM Lined Up Hundreds Of Qualified Leads For My Business... (WithOUT Having To Prospect... EVER!)
TOPICS WE'RE GOING TO COVER:
The 3 types of speakers there are and which one to choose
The NEW form of credibility that works today
The WIN-WIN-WIN speakers model
The PROVEN presentation model
How to create Social Proof and kill obscurity
My GENUS lead generation funnel that brought me hundreds of qualified leads
WHO THIS IS FOR:
Speakers, Coaches, Authors…
Employees And Employers…
Business Owners, Sales People…
Network Marketers, Affiliate Marketers
Parents, Professionals, Students
People With A Dream But No Plan
WHO IS THIS NOT FOR:
People Who Want Something For Nothing And Are Not Willing To Pay The Price For Success
"If This Masterclass Is For You, Then You Will Know That And Feel That Inside By Now. Make A Decision, And I Will See You There."
WHO AM I LEARNING FROM?
Armin Shafee Has A Proven Track Record Of Results In The Area Of Public Speaking And Building A BIG Business Around Helping People Achieve MASSIVE RESULTS In Their life And Business.
He Has Worked With Over 3,500+ People In The Last 12 Months Alone
Spoken on over 60+ stages
He Has Delivered Presentations And Courses In Countries Like Malaysia, Thailand, Singapore, Several Cities In The US and Canada
He Has Trained Over 200+ Public Speakers Through His Academy
He Has The Only Licensed Partnership With The Think And Grow Rich Institute In History
He Is A Mentor To Countless Professionals Like CEO's, Traders, Sales People, Network Marketers, Speakers, Authors, Coaches And More