Description
Public Speaking Like An Expert... Taught For Beginners
If you want to increase your confidence speaking in front of others AND perfect your presentation - join us for a 1 day course on PUBLIC SPEAKING.
It doesn't matter how much experience you have - you can always get better. The art of feeling comfortable and being yourself on stage can be learned and improved upon so you come across as an expert.
This course is interactive and a safe environment to work on the core skills of succesful speaking:
Building Rapport
Telling a Good Story
Owning the Stage
Easy Notes
Connecting to the Audience
Bring an existing speech or a topic you need to work on and we'll get you ready to speak like an EXPERT.
SCHEDULE
8:30 PM CHECK-IN + COFFEE

9:00 AM PART 1 - PRINCIPLES OF EXPERT SPEAKING
12:30 PM LUNCH BREAK
1:30 PM PART 2 - PRACTICE
4:30 PM CLOSE + QUESTIONS
5:00 PM OPTIONAL HAPPY HOUR WITH SPEAKING COACH EMILY PAGE
ABOUT THE TEACHER
Emily Page is a speaker, executive coach and business manager who is passionate about the science of growth that changes your life for the better. She pulls from her experience running and launching multiple 6-figure small businesses and coaching executives to grow their businesses. Her style creates unique events where you can grow with interactive material focused on helping you find the answers, already inside of you. Life is too short to stay stagant, no matter what area of your life needs to grow. Decide it's time to take hold and change your own life. http://emilyannepage.com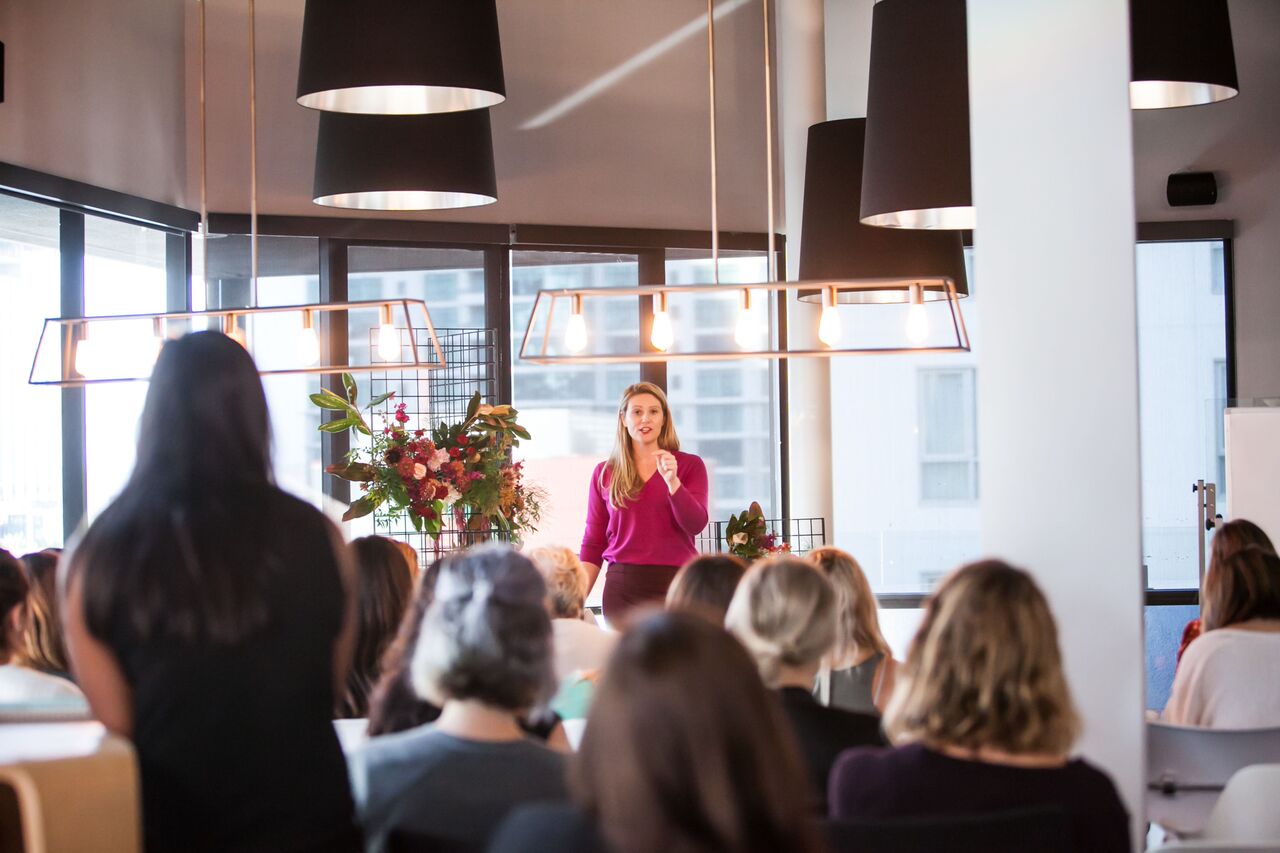 Wesley Oksanen is about creating platforms where people can GET IT STARTED. She manages and coordinates GET IT STARTED events and conferences all over the country to support personal development + small business growth. Welsey believes meaninful growth requires a community, a safe space and a commitment to change. She provides the venue and speakers -- you bring the intention and heart to grow and it will happen. http://getitstartedconference.com
PLANNING FOR LUNCH
Within walking distance are incredible and diverse restaurants and shops including:
Tender Greebs
Starbucks

Modern Market

Pei Wei Asian Diner
TRAVEL ACCOMODATIONS
If you're coming from out of town to recommended travel accomodations within walking distance of the event can be found at:
Aloft Hotel - This 150-room select service hotel in the Starwood Hotel brand offers excellent views and stylish surroundings. Its bright, airy environment boasts 14-foot ceilings and extra-large windows. Choose a king or double queen room featuring a signature bed, and enjoy walk-in showers with Aloft amenities by Bliss® Spa. Each room is an all-in-one high-tech office and entertainment center with free Wi-Fi. In addition, the modern, fresh and fun hotel is within walking distance to CityLine's prime restaurants and entertainment venues. Accessible within a few feet of the DART public transportation AND the 75 freeway.

You can make a weekend out of your stay and quickly travel to metropolis downtown Dallas with internationally famous museums and booming food scene. Or visit funky Deep Ellum for late nite live performances or hip-hop and grunge rock bands. Amazing premium shopping is within 15 minutes in Plano and Frisco with brand new buildings your visit to luxury spas, famous restaurants and premium brands will make your vacation feel luxurious.
Further questions please email: info@getitstartedconference.com.