Actions and Detail Panel
PUBLIC SPEAKING AND COMMUNICATION STRATEGIES MASTERCLASS
Fri, Dec 9, 2016, 9:00 AM – Sat, Dec 10, 2016, 4:00 PM WAT
Description
Described by Brain Tracy as "one of the best speakers in the world today," Ubong Essien is the currently the only international Certified Speaking Professional in the whole of West Africa. Watch the endorsement here.

He has been in the human capacity building profession since 1999 and he worked as a speaker, trainer, facilitator and consultant to a variety of Nigerian organisations (private and public) such as Total Plc, Lafarge Plc, Guinness Plc, AIICO Insurance, Fidelity Bank, Standard Chartered Bank, Nigeria LNG, Multichoice, May and Baker, FERMA, VON, Lagos and Imo State, UAC Plc, NBC, HP Nigeria, TFC, CAP Plc, and so many others.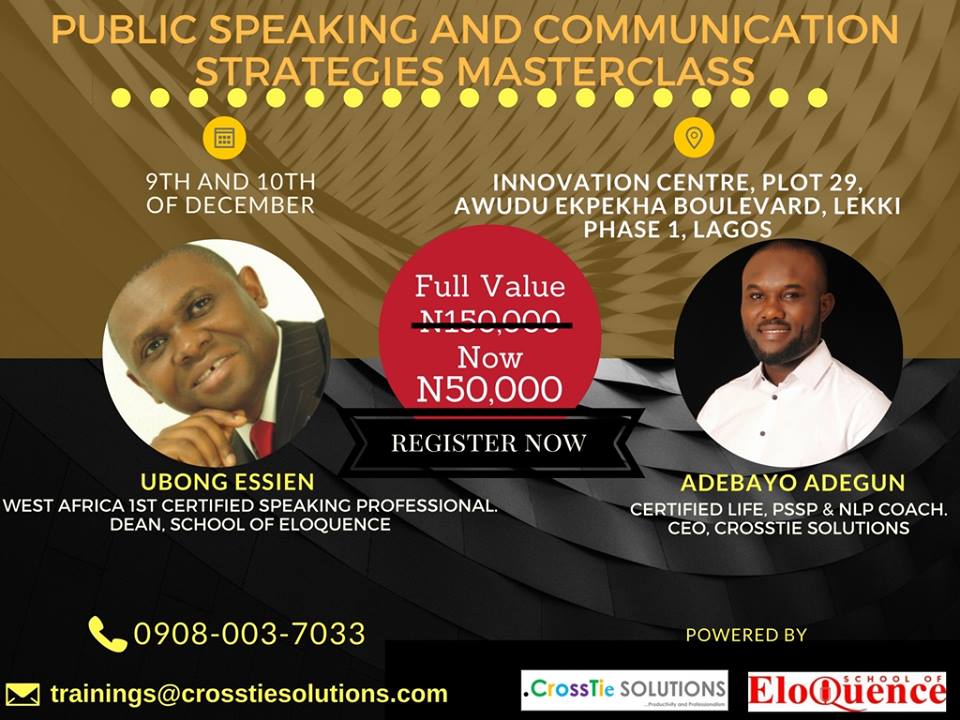 Day 1 Course Outline
The Essence of Public Speaking - Understanding it

The Myths of Public Speaking - Debunking them

The Importance/Imperative/Necessity of Public Speaking - Highlighting them

The Fears of Public Speaking - Attaining it

The Dividends of Public Speaking - Reaping them

The Tools of Public Speaking - Utilizing them

The Procedure/Process/Structure of Public Speaking - Observing them

The Practice of Public Speaking - Committing to it.

The Laws of Public Speaking - Obeying them

The Pillars of Public Speaking - Upholding them

The Seasonings (Colour and Flavour) of Public Speaking - Savouring them

The Sins of Public Speaking - Avoiding them
Day 2 Course Outline
Understand what communication is

Identify ways that communication can happen

Identify barriers to communication and how to overcome them

Develop their non-verbal and paraverbal communication skills

Use the STAR method to speak on the spot

Listen actively and effectively

Ask good questions

Use appreciative inquiry as a communication tool

Adeptly converse and network with others

Identify and mitigate precipitating factors

Establish common ground with others

Use "I" messages
Do you want to miss this VALUE? Click HERE to Register NOW.

Special gift for early registration. See gift here. A class of 20. Limited seats available.