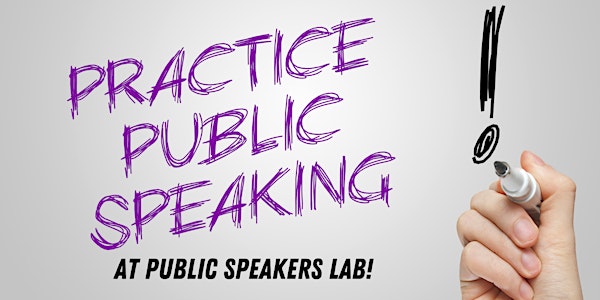 Public Speakers Lab - A Great Place to Practice Your Signature Message
A safe place to work on your signature speech, signature story or presentation. You'll get a GUARANTEED speaking spot of up to 7 minutes!
About this event
ATTENTION ZOOM BOMBERS: We know how you operate. If you choose to join us for an event, YOU MUST TURN YOUR CAMERA AND MIC ON upon entering. If you don't turn your camera and mic on upon entering, you will be removed immediately before you have a chance to embarrass yourself
The purpose of this Public Speakers Lab session, is to provide a safe environment for aspiring and emerging speakers, storytellers and presenters to sharpen their skills, grow their confidence and make some great connections and partnerships.
This program is hosted by the Speakers Enrichment Academy and Next Stage Communications. It is held virtually on Zoom and starts at 6:00 PM Pacific time.
Everyone who has been vetted and arrives on time, gets from 1 to 7 minutes to share a speech, story or presentation, with a couple of minutes of positive audience feedback following their message. Speaking order is chosen at random.
(If you've never attended one of our events before, PLEASE READ TO THE END OF THIS DESCRIPTION FOR AN IMPORTANT NOTICE ABOUT FIRST TIME VISITOR VETTING PROCESS)
We go until everyone has had an opportunity to speak and then...we're done!
YOUR SPEAKING TOPIC We encourage everyone to speak at these meetings... for at least a minute. (However, you are never forced to do anything that you don't want to do!) The purpose of your speaking can be anything you choose... You can speak about your business, a story, a part of your signature speech, a business presentation, anything that you want...it is your time to share.
If you don't have a prepared message, simply let the moderator know (via private chat) and he/she will interview you during your time slot.
If you want a couple of topic choices to get the creativity flowing....here is what we suggest:
1. What you do
2. What you are passionate about
3. A Turning Point in your life
4. A story of inspiration
5. A story of motivation
Again...you can speak on anything you like and we are excited to hear from you.
We video the event and will provide you with a link to your segment (including your feedback) about a day or so after the event concludes.
We look forward to seeing you at the Public Speakers Lab Session!
Please RSVP only if you're sincere about joining us at this event. RSVP NOW!
Check out what some of the participants have said about their experience at the Public Speakers Lab in the past at: https://vimeo.com/472058669
IF YOU'RE A FIRST TIME VISITOR, YOU MUST SCHEDULE A ZOOM INTERVIEW PRIOR TO BEING ALLOWED TO JOIN US. PLEASE SCHEDULE YOUR VETTING INTERVIEW AT: https://calendly.com/alj-2speak/meetup-vetting-conversation