Public Speaker Boot Camp- Introduction To Public Speaking (All Levels)

Saturday, August 2, 2014 from 1:00 PM to 4:00 PM (CDT)
Who's Going

Loading your connections...
3 of your friends are going.
Share it to get more people on board!
Share

Sara Haughty
San Francisco, California

Luke Picard
London, United Kingdom

Rick Vespucio
Florence, Italy
Event Details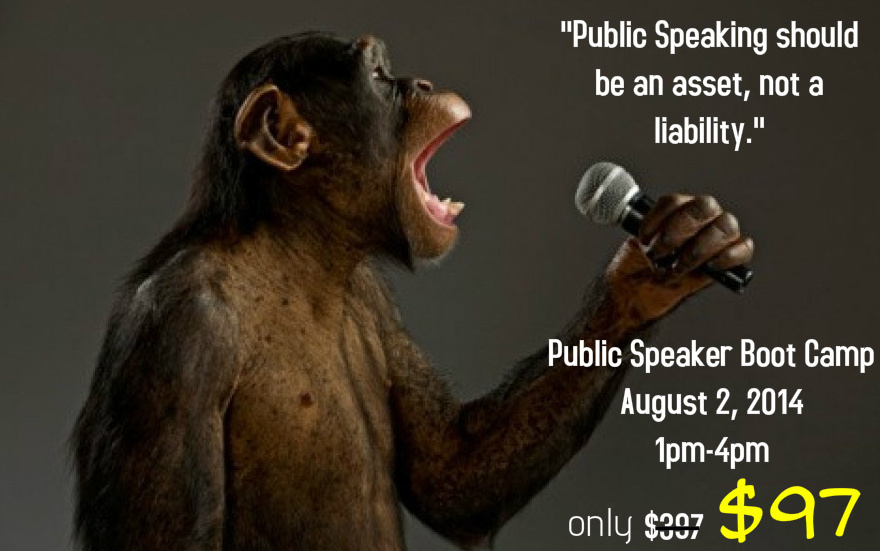 Introduction to Public Speaking
A report from the National Association of Colleges and Employers shows that employers want job candidates with strong communication skills. Similarly, educational success also requires the ability to articulate your thoughts clearly. In this workshop, we will study the principles of public speaking; critically examine our own and others' speeches through interactive practice.
About the Workshop
The overriding goal of this course is to demystify the process of writing, practicing, and performing a clear and engaging speech. In so doing, I hope this course can help each student improve the quality of their speeches and confidence with which they present them.
More specifically, upon successfully completing this workshop, you should be able to:
design and deliver basic presentations concisely;

design and deliver informative presentations clearly;

design and deliver complex arguments persuasively;

speak confidently with appropriate rate, projection, movement, and vocal variety; 

evaluate and critique speeches insightfully.
Whilst many people fear public speaking, there are plenty of good reasons why you should not only approach it with courage, but also with pleasure and hope.
Professional benefits--If you are a professional, and particularly if you are independent or work for a consultancy or other 'body shop', public speaking can give significant skills.
Skill-building--

When you are a professional person, there are many occasions when you will need to speak with others outside of the big-audience public-speaking scene. For example a manager may want to address his/her department (or an individual address everyone and the manager). You may also want to talk persuasively with individuals in any situation from getting a job to getting a raise in salary. 

Public speaking can help with all of these situations. If you can stand up in front of a large audience and talk persuasively, then talking to a smaller group or an individual is not such a big deal.

Professional credibility--

Speaking at events, conferences and so on is very good for adding to your credibility. The larger the event the better, as you can add these achievements to your CV.

Networking--

When you are a speaker at an event, you will suddenly find that everyone wants to talk with you. This is of course a splendid opportunity for making friends, building business contacts and more. Not only this, but you also get the opportunity to network with other speakers, some of whom may be very difficult to contact in the 'normal' world. Speaking events may also have guest rooms for speakers where they are plied with food and drink and can network together as a superior echelon.

Finding work--

The credibility and networking opportunities that public speaking gives also provides you with the chance of finding work, from people who might offer you a full-time job to consulting engagements.
Personal benefits--As well as professional benefits, you can gain a lot personally, in ways that you can use in all walks of your life.
Developing courage--

It takes courage (at least at first) to stand up on the stage and talk, even when you may feel like running away and hiding. By facing your demons you can learn to face and overcome even more situations, becoming a more courageous person in the process.

Building confidence--

There is no doubt that you need confidence to speak on a public stage and also that speaking on a public stage can help you become more confident. Just as being courageous once makes you more courageous at other times, so also does acting in a confident way makes you generally a more confident person.

Learning to argue--

When you present, you often need to put forward a coherent argument. In the preparation that you have to do, in the practice and on the actual stage of public speaking, you will learn much about the art of argument, especially if you get to engage with your audience in some form of question and answer.

Learning to persuade--

Beyond and within argument, you will have plenty of opportunity to utilize many of the methods in this workshop in practicing the subtle arts and science of persuasion.
Now It's Up To You. . .Opportunity Is Not Just Knocking. . . It's Knocking Your Door Down!
If you're ready to break the chains that are holding you back on the platform, I strongly encourage you to take a leap of faith.
It's a Warm, Wonderful, Powerful Feeling. . .
We can tell you from experience what a great feeling it is to be up in front of a room, totally relaxed, knowing that you've been trained at the top speech workshop in Chicago. It's a warm, wonderful feeling to be impacting people's lives in a positive manner. . . and being paid handsomely to do it. There's an overwhelming feeling of peace that comes from knowing that you've paid the price to go to the best.
I hope you will decide to give yourself this very special, once in a lifetime gift.We look forward to working with you. . and helping you showcase your marvelous talents to the world.
When & Where

Chicago Bee Library
3647 S State St
Chicago, IL 60609


Saturday, August 2, 2014 from 1:00 PM to 4:00 PM (CDT)
Add to my calendar
Organizer
Public Speaker Association-Chicago (PSA-Chicago)
We are so excited to bring the Public Speakers Association to the Chicago area. PSA is designed to help people develop solid marketing presentations to create huge traction utilizing speaking to market their business. The Chcago chapter is devoted to helping professionals step up their marketing efforts by training them on the newest information on presentations and building an incredibly effective and profitable business. Our focus is for those who want to ramp up speaking with small seminars and events locally and make those efforts productive to find new clients and help those who want to really take their speaking and business to the ultimate level and do large stage speaking. The Association is designed to give maximum impact and connection factor. National and International Speakers will be giving incredible presentations to help you in your next step at the meetings and the members will get a chance to do a presentation and receive great feedback to help them improve. We also welcome businesses whose target market are speakers to attend and network with this highly professional crowd!
Public Speaker Boot Camp- Introduction To Public Speaking (All Levels)