Event Information
Location
Suffolk University - Sargent Hall - 120 Tremont St. Boston, MA 02108
Description
ABOUT THE PUBLIC SERVICE SYMPOSIUM
The purpose of this symposium is to bring together a cross-sector of participants and their organizations to discuss the role of individuals, universities, nonprofits, and the private sector in best practices around engaging our respective populaces in civic life. The Symposium will be a forum for peers to collaborate and share practical strategies, scholarly research, and create applicable best practices both on and off-campus. Each session aims to ensure all participants depart with actionable takeaways, a motivation to continue working toward inclusive civic engagement, and a groundwork for collaborative future actions.
SCHEDULE
8:30 – 9:00 Registration & Breakfast
9:00 – 9:45 Richard Blanco Reading & Book Signing
10:00 – 11:15 Panel 1: The Role of Universities in Cultivating Spheres of Engagement
11:15 – 12:30 Panel 2: Best Practices: Cases in Activating Will and Capacity to Serve
12:30 – 2:00 Lunch & Student Poster Session
1:00-1:45 Theda Skocpol Address
2:00 – 3:15 Panel 3: Inclusive Civic Engagement
3:15 – 4:00 Closing Reflections & A Call to Action
We look forward to welcoming an esteemed lineup of panelists to this year's symposium!
Keynotes:
Richard Blanco, President Obama's 2013 Inaugural Poet; Education Ambassador, The Academy of American Poets
Theda Skocpol, Founder & Director, Scholars Strategy Network; Victor S. Thomas Professor of Government and Sociology, Harvard University
Esteemed Panelists:
Cheryl Clyburn Crawford, Executive Director, MassVOTE
Rachael Cobb,

Associate Professor & Chair, Government Department,

Suffolk University
Gregg Croteau, CEO, UTEC, Inc.
Lew Finfer, Co-Director, Massachusetts Communities Action Network
Adam Gismondi, Director of Impact, Institute for Democracy and Higher Ed, Tisch School, Tufts University
Emily Haber, Chief Executive Officer, Massachusetts Service Alliance
Kimberly D. Lucas, Open Data Manager, Department of Innovation and Technology, City of Boston
Rebecca Michelson, Design Researcher, Make the Breast Pump Not Suck
Caryn Musil, Senior Scholar and Director of Civic Learning and Democracy Initiatives, Association of American Colleges and Universities
Alexandra Valdez, Director of Engagement for Economic Mobility Lab, Mayor's Office of Policy, City of Boston

...and more, coming soon!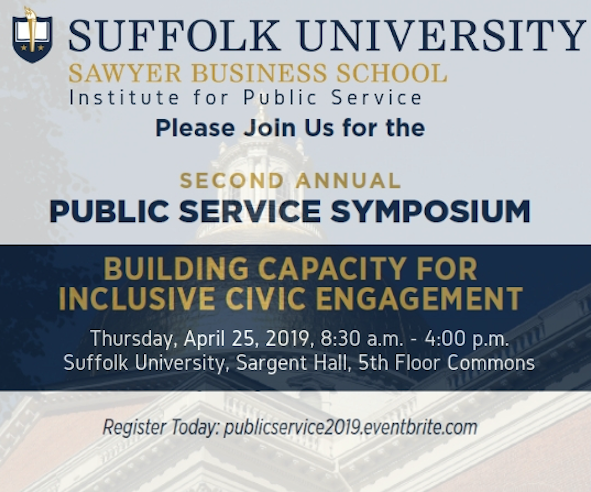 Date and time
Location
Suffolk University - Sargent Hall - 120 Tremont St. Boston, MA 02108