Description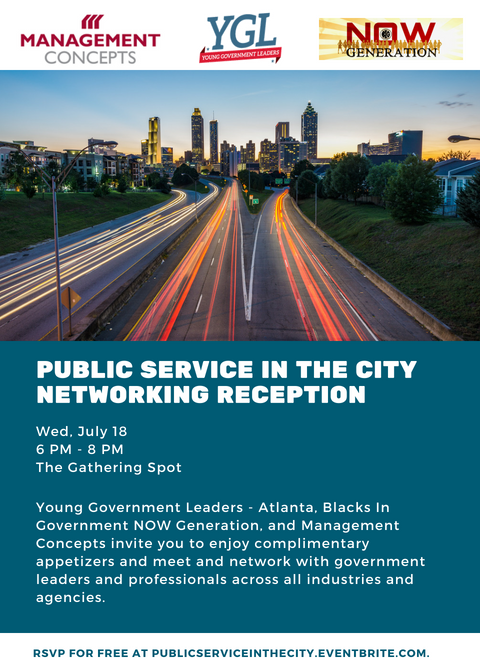 In an effort to increase the participation and engagement of underrepresented groups, Young Government Leaders (YGL) - Atlanta Chapter and Blacks In Government NOW Generation (BIG-NOW) Region IV have joined forces to execute a series of professional development events.

Please join us for our third event sponsored by Management Concepts on Wednesday, July 18th, from 6 PM to 8 PM at The Gathering Spot (384 Northyards Blvd NW #100, Atlanta, GA 30313).
Join us for complimentary appetizers and a chance to network with other young government leaders and professionals across all industries.
Joining us will be Odie Donald, II, who serves as City Manager of South Fulton.
You'll have a chance to meet with representatives of Management Concepts for additional information on professional development opportunities for you individually or your agency/organization.
AGENDA
6:00 PM to 6:30 PM - Meet and Greet
6:30 PM to 6:40 PM - Opening Remarks
Ashley Nealy, President, Young Government Leaders - Atlanta

Mechele A. Lynch, BIG NOW Generation Region IV

6:40 PM to 6:50 PM - Remarks from Management Concepts
Michelle Clark, Director, Marketing and Strategic Partnerships, Management Concepts
6:50 PM to 7:00 PM - Executive Speaker
Odie Donald, II, City Manager, City of South Fulton
7:00 PM to 8:00 PM - Meet with other Government Professionals
From Young Government Leaders - Atlanta, Senior Executives Association, Blacks In Government - NOW Generation, Federally Employed Women Conference attendees as well as representatives from Management Concepts Headquarters