Bringing together organisations from both public and private sectors in the Philippines that are passionate about building a safe place
About this Event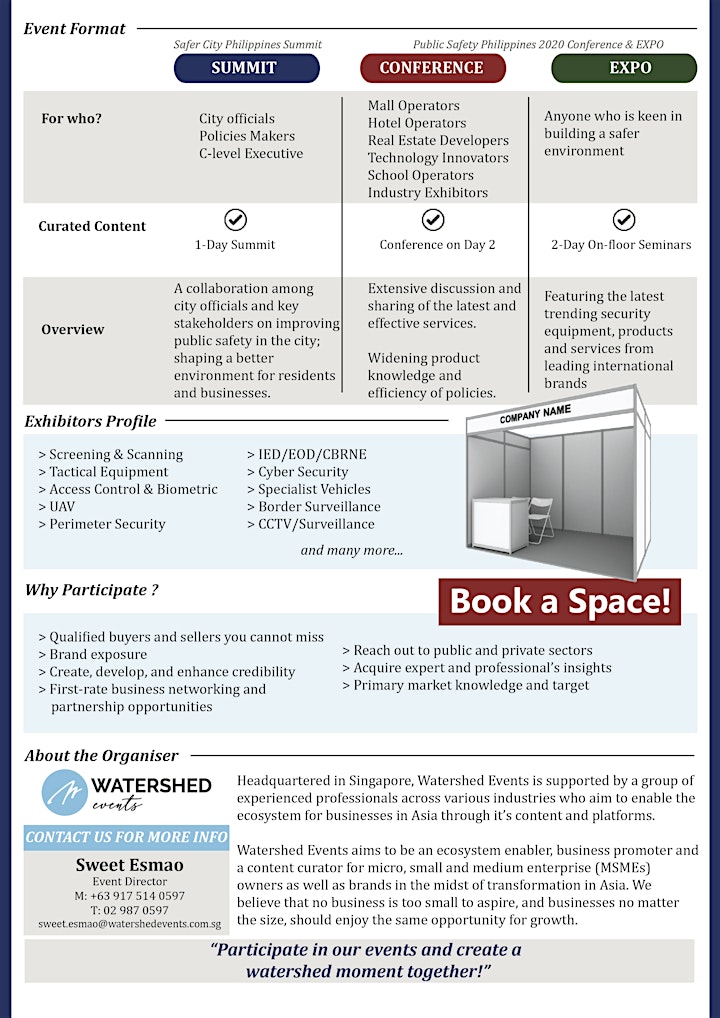 It is a must-attend event for Cities & Public Safety Officials from the Public Sector to meet and to form strategic collaboration with their counterparts from the Private Sector.
Public safety and security can only be maintained through constant communication between stakeholders and strengthening its collaboration. At Public Safety Philippines, through our curated content and event activities, will bring together the key stakeholders of Philippines' Cities Public Safety and Security ecosystem - Senior Management public safety professionals from Critical City Infrastructure, Hotel & Resorts, Residential & Commercial Property Developers, Shopping Mall Operators & Retailers, Security Service Providers Companies and Leading Brands of Public Security services and products and Distributors & System Integrator.
This inaugural event is going to attract 3,000+ public safety and security professionals, making it an excellent platform for knowledge, idea sharing, collaboration and partnership opportunities.
Note:
ONLINE REGISTRATION is FREE for the EXPO AREA ONLY. Featuring the latest trending security equipment, products and services.
WALK-IN guests to the expo shall be charged Php 100.00 per head.
ATTENDANCE TO THE CONFERENCE & SUMMIT has corresponding charges.
EXPO HOURS is from 10:00 AM to 5:00 PM
Contact us:
Phone: 0917 514 0597
Landline: 987 0597
Email: sweet.esmao@watershedevents.com.sg
You may also visit our:
Website: www.publicsafetyphilippines.com
Facebook: www.facebook.com/PsPhil2020