Public Relations Intern for NY Fashion Production Marketing Company

Wednesday, January 15, 2020 from 7:00 PM to 10:00 PM (EST)
Event Details
Public Relations Intern for NY Fashion Production Marketing Company
This is a New York based Fashion Production Marketing offering and opportunity for talented individuals interested in significantly developing their skills and gaining exposure to real world applications with a New York Fashion Production company.
Position is unpaid, but you may receive college credit is needed. You will be gaining hands on experience by working very closely with the PLITZS Fashion Marketing teams.
This is a Virtual/Remote Office Environment Internship/Volunteer Opportunity. Intern applicants must be proactive, organized, detail-oriented, professional, and have a positive attitude.
Ability to work independently as well as in a team.
YOUR FIRST STEP: Interested applicants should submit a resume and a regular photo of yourself (Right Away). Mail To: Staff@Plitzs.com
Must be self-motivated with good organizational skills, strong attention to detail and excellent follow-through.
For Intern/Volunteers this is a NON-PAID INTERNSHIP/VOLUNTEER. School Credit is welcome but not mandatory.
Recommendation Letter, Job Reference and Appreciation Letter (Based on Job Performance) from the company Founder & Chief Production Marketing Consultant.
View Our Youtube Channel for PNYCFW Show Videos, Promotional Video Commercials & Designer Interviews: www.youtube.com/user/eventlinks
Show Website: www.Plitzs.com/nycfashionweek
Company Website: www.Plitzs.com
Phone numbers: Office 646.257.4207
Email: Staff@Plitzs.com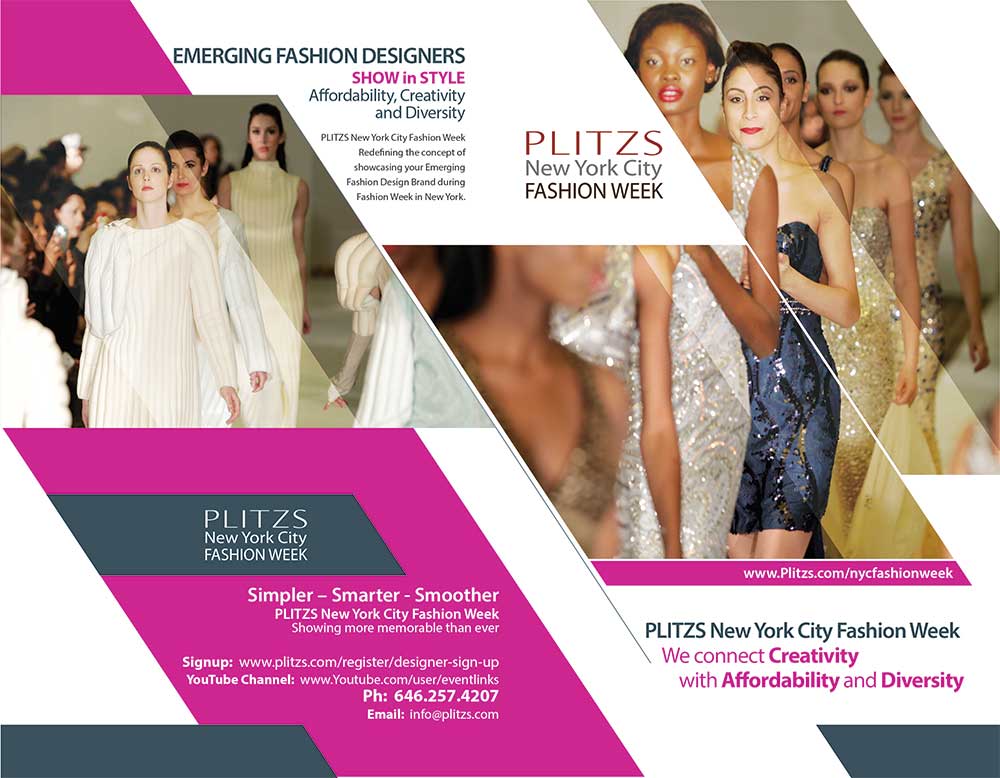 Save This Event
When & Where

New York's Hotel Pennsylvania
401 SEVENTH AVE
33 AND 32 STREETS
NEW YORK, NY 10001


Wednesday, January 15, 2020 from 7:00 PM to 10:00 PM (EST)
Add to my calendar
Organizer
About Us:
PLITZS Fashion Marketing specialize in fashion design, fashion marketing, fashion training, fashion production, commercialization and event marketing, with the aim to create a close collaboration between our clients and the fashion world. We'll work hand-in-hand with Emerging Designers prior to the PLITZS New York City Fashion Week to ensure we have a full understanding of the fashion design brand you need to launch; and then provide you with the platform and production team that will help bring your emerging fashion design brand to life with a memorable showing. You've got the emerging fashion brand's new collection, and now you need to launch it in a way that's going to make a lasting impression on your clients, public, media/press and prospects - and most importantly, make them want to contact you to media cover or buy your product.
PLITZS Fashion Marketing manages every aspect of a fashion event, from artistic design through to casting and technical support, to create an affordable and profesional runway show solution with a tailored edge.
Shared Opportunities are better at PLITZS New York City Fashion Week
Creating an affordable and professional showcase platform
PLITZS Fashion Marketing founded the "PLITZS New York City Fashion Week" in 2004. Working with international and domestic emerging fashion designers - we provide showcasing opportunities, brand exposure and networking.
PLITZS New York City Fashion Week has created an independent network of international and United States domestic Fashion Week show productions not affiliated with any other industry association.
PLITZS Fashion Marketing
Direct Phone: 646.257.4207
Email: Info@Plitzs.com
Web: www.Plitzs.com
Instagram: http://www.instagram.com/plitzsfashionmarketing  
Facebook: http://www.facebook.com/PLITZS
Twitter: http://twitter.com/#!/plitzsfashionpr
<A STYLE="color: #1155cc; font-family: arial, sans-serif; font-size: small;" HREF="http://www.plitzs.com/nycfashionweek" TARGET="_blank" DATA-SAFEREDIRECTURL="https://www.google.com/url?hl=en&q=http://www.Plitzs.com/nycfashionweek&source=gmail&ust=1507382420365000&usg=AFQjCNGy28LYwUawYZ_8RZAeECag32N5Rg" REL="noreferrer noopener noopener noopener noopener noopener noreferrer noopener nofollow noopener noreferrer nofollow noreferrer noopener noopener noopener noopener noopener noreferrer noopener nofollow noopener noreferrer nofollow noreferrer noopener noopener noopener noopener noopener noreferrer noopener nofollow noopener noreferrer nofollow noreferrer noopener noopener noopener noopener noopener noreferrer noopener nofollow noopener noreferrer nofollow noreferrer noopener noopener noopener noopener noopener noreferrer noopener nofollow noopener noreferrer nofollow noreferrer noopener noopener noopener noopener noopener noreferrer noopener nofollow noopener noreferrer nofollow noreferrer noopener noopener noopener noopener noopener noreferrer noopener nofollow noopener noreferrer nofollow noreferrer noopener noopener noopener noopener noopener noreferrer noopener nofollow noopener noreferrer nofollow noreferrer noopener noopener noopener noopener noopener noreferrer noopener nofollow noopener noreferrer nofollow noreferrer noopener noopener noopener noopener noopener noreferrer noopener nofollow noopener noreferrer nofollow noreferrer noopener noopener noopener noopener noopener noreferrer noopener nofollow noopener noreferrer nofollow noreferrer noopener noopener noopener noopener noopener noreferrer noopener nofollow noopener noreferrer nofollow noreferrer noopener noopener noopener noopener noopener noreferrer noopener nofollow noopener noreferrer nofollow noreferrer noopener noopener noopener noopener noopener noreferrer noopener nofollow noopener noreferrer nofollow noreferrer noopener noopener noopener noopener noopener noreferrer noopener nofollow noopener noreferrer nofollow noreferrer noopener noopener noopener noopener noopener noreferrer noopener nofollow noopener noreferrer nofollow noreferrer noopener noopener noopener noopener noopener noreferrer noopener nofollow noopener noreferrer nofollow noreferrer noopener noopener noopener noopener noopener noreferrer noopener nofollow noopener noreferrer nofollow noreferrer noopener noopener noopener noopener noopener noreferrer noopener nofollow noopener noreferrer nofollow noreferrer noopener noopener noopener noopener noopener noreferrer noopener nofollow noopener noreferrer nofollow noreferrer noopener noopener noopener noopener noopener noreferrer noopener nofollow noopener noreferrer nofollow noreferrer noopener noopener noopener noopener noopener noreferrer noopener nofollow noopener noreferrer nofollow noreferrer noopener noopener noopener noopener noopener noreferrer noopener nofollow noopener noreferrer nofollow noreferrer noopener noopener noopener noopener noopener noreferrer noopener nofollow noopener noreferrer nofollow noreferrer noopener noopener noopener noopener noopener noreferrer noopener nofollow noopener noreferrer nofollow noreferrer noopener noopener noopener noopener noopener noreferrer noopener nofollow noopener noreferrer nofollow noreferrer noopener noopener noopener noopener noopener noreferrer noopener nofollow noopener noreferrer nofollow noreferrer noopener noopener noopener noopener noopener noreferrer noopener nofollow noopener noreferrer nofollow noreferrer noopener noopener noopener noopener noopener noreferrer noopener nofollow noopener noreferrer nofollow noreferrer noopener noopener noopener noopener noopener noreferrer noopener nofollow noopener noreferrer nofollow noreferrer noopener noopener noopener noopener noopener noreferrer noopener nofollow noopener noreferrer nofollow noreferrer noopener noopener noopener noopener noopener noreferrer noopener nofollow noopener noreferrer nofollow noreferrer noopener noopener noopener noopener noopener noreferrer noopener nofollow noopener noreferrer nofollow noreferrer noopener noopener noopener noopener noopener noreferrer noopener nofollow noopener noreferrer nofollow noreferrer noopener noopener noopener noopener noopener noreferrer noopener nofollow noopener noreferrer nofollow noreferrer noopener noopener noopener noopener noopener noreferrer noopener nofollow noopener noreferrer nofollow noreferrer noopener noopener noopener noopener noopener noreferrer noopener nofollow noopener noreferrer nofollow noreferrer noopener noopener noopener noopener noopener noreferrer noopener nofollow noopener noreferrer nofollow noreferrer noopener noopener noopener noopener noopener noreferrer noopener nofollow noopener noreferrer nofollow noreferrer noopener noopener noopener noopener noopener noreferrer noopener nofollow noopener noreferrer nofollow noreferrer noopener noopener noopener noopener noopener noreferrer noopener nofollow noopener noreferrer nofollow noreferrer noopener noopener noopener noopener noopener noreferrer noopener nofollow noopener noreferrer nofollow noreferrer noopener noopener noopener noopener noopener noreferrer noopener nofollow noopener noreferrer nofollow noreferrer noopener noopener noopener noopener noopener noreferrer noopener nofollow noopener noreferrer nofollow noreferrer noopener noopener noopener noopener noopener noreferrer noopener nofollow noopener noreferrer nofollow noreferrer noopener noopener noopener noopener noopener noreferrer noopener nofollow noopener noreferrer nofollow noreferrer noopener noopener noopener noopener noopener noreferrer noopener nofollow noopener noreferrer nofollow noreferrer noopener noopener noopener noopener noopener noreferrer noopener nofollow noopener noreferrer nofollow noreferrer noopener noopener noopener noopener noopener noreferrer noopener nofollow noopener noreferrer nofollow noreferrer noopener noopener noopener noopener nofollow nofollow nofollow nofollow nofollow nofollow nofollow nofollow nofollow nofollow nofollow nofollow nofollow nofollow nofollow nofollow nofollow nofollow nofollow nofollow nofollow nofollow nofollow nofollow nofollow nofollow nofollow nofollow nofollow nofollow nofollow nofollow nofollow nofollow nofollow nofollow nofollow nofollow nofollow nofollow nofollow nofollow nofollow nofollow nofollow nofollow nofollow nofollow nofollow nofollow nofollow noopener noreferrer nofollow nofollow nofollow nofollow nofollow nofollow nofollow nofollow nofollow nofollow nofollow nofollow nofollow nofollow nofollow nofollow nofollow nofollow nofollow nofollow nofollow nofollow nofollow nofollow nofollow nofollow nofollow nofollow nofollow nofollow nofollow nofollow nofollow nofollow nofollow nofollow nofollow nofollow nofollow nofollow nofollow nofollow nofollow nofollow nofollow nofollow nofollow nofollow nofollow nofollow nofollow nofollow nofollow nofollow nofollow nofollow nofollow nofollow nofollow nofollow nofollow nofollow nofollow nofollow nofollow nofollow nofollow nofollow nofollow nofollow nofollow nofollow nofollow nofollow nofollow nofollow nofollow nofollow nofollow nofollow nofollow nofollow nofollow nofollow nofollow nofollow nofollow nofollow nofollow nofollow nofollow nofollow nofollow nofollow nofollow nofollow nofollow nofollow nofollow nofollow nofollow nofollow nofollow nofollow nofollow nofollow nofollow nofollow nofollow nofollow nofollow nofollow nofollow nofollow nofollow nofollow nofollow nofollow nofollow nofollow nofollow nofollow nofollow nofollow nofollow nofollow nofollow nofollow nofollow nofollow nofollow nofollow nofollow nofollow nofollow nofollow nofollow nofollow nofollow nofollow nofollow nofollow nofollow nofollow nofollow nofollow nofollow nofollow nofollow nofollow nofollow nofollow noreferrer nofollow noreferrer nofollow noreferrer nofollow nofollow noopener noreferrer nofollow noreferrer nofollow noreferrer nofollow noreferrer nofollow noreferrer nofollow nofollow noopener noreferrer nofollow noreferrer nofollow noreferrer nofollow noreferrer nofollow noreferrer nofollow nofollow noopener noreferrer nofollow noreferrer nofollow noreferrer nofollow noreferrer nofol