Public & Private Blockchains for Business. Ethereum vs. Hyperledger Fabric...
Description
1-Day Instructor-led Classroom Training for Non-Technical Experts and Business Development Experts

NOTE: We are gathering the group for the training and can consider alternative dates. Please reach out at training@altoros.com if you have any questions!
This intensive 1-day course is designed for non-technical experts in Fintech, Insurance, and Commodities space exploring:
ways to overcome limitations of centralized systems

innovative approaches and products built on blockchain

use cases of blockchain specific for Insurance, commodities trading and financial instruments

action items and stages to launch a corporate blockchain initiative
Ethereum and Hyperledger Fabric provide attractive and popular solutions for business. Attendees will learn essentials of public and private blockchains, compare use cases built on Ethereum and Hyperledger frameworks, and see how to deploy a private blockchain network.
WHO SHOULD ATTEND
Non-technical business executives evaluating and making decisions on applying blockchain for business needs: Customer relations, Logistics, Trade channels, Finance and IT.
OBJECTIVES
Understand how Ethereum and Hyperledger frameworks serve multiple functions in various industries, and make projection to your business

Brainstorm the use cases for your company

Practice with a DEMO-network developed for a real-life use case and learn:
How well Ethereum suits B2C business

How to deploy a Hyperledger Fabric network; roles and permits management

How network participants interact and how smart contracts fulfil their functions

Transactions processing and maintaining the distributed ledger
PREREQUISITES
Bring your laptop with Windows 10 or Mac OS X 10.x

Basic understanding of blockchain is nice to have but not required
TRAINING PROGRAM
Introduction
Introduction to cryptography and distributed ledger technology
Section 1. WORKSHOP (lecture)
Blockchain and its components: nodes, keys, blocks, hash function, native currency

Consensus mechanisms overview

Ethereum network essentials

Ethereum Virtual Machine and Smart contract

Disruptive technology use cases: tokenization of assets, Peer-to-Peer atomic swap

ICO (crowdfunding)
WORKSHOP (display demo)
How It Works: real-life use case DEMO Decentralized insurance platform "Etherisc"
Section 2. WORKSHOP (lecture)
Private (permissioned) blockchains: Hyperledger frameworks

Public vs. Private blockchains comparison: Ethereum vs. Hyperledger Fabric

Architecture of Hyperledger Fabric 1.0

Use cases overview: banking, finance, investments, OTC market, standardised trading, syndicated loan, clearing systems, insurance, supply chains, pharmaceuticals, shared services
WORKSHOP (display demo)
DEMO-network deployment and transactions processing
WORKSHOP (practice)
How It Works:
Hands-on practice with a DEMO-network (POC): an OTC trading platform & clearing system designed for the "Reinsurance network". Participants play the roles of the network nodes: create assets, process transactions, generate reports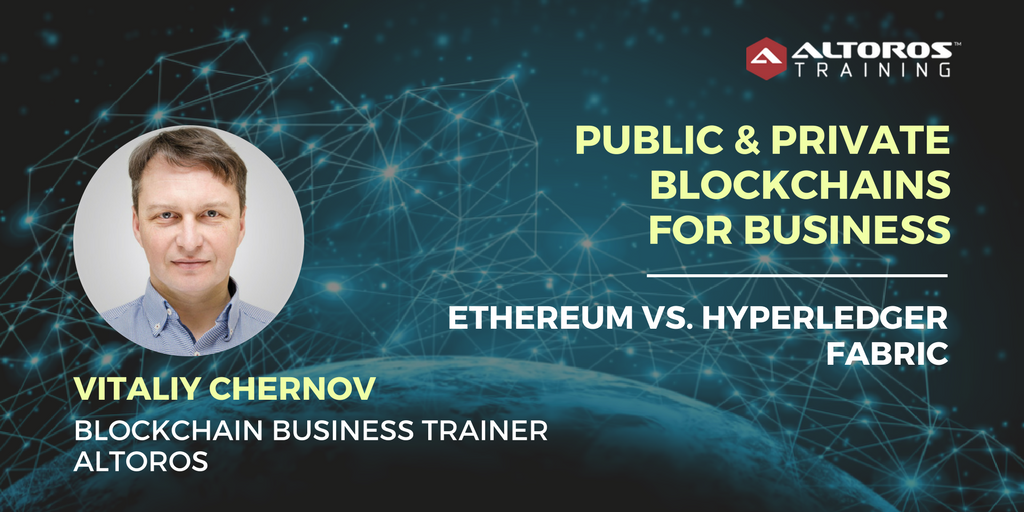 TRAINER
Vitaliy Chernov, Blockchain Business Trainer at Altoros
Vitaliy has engineering background in Electronics and holds MBA degree majoring in Finance from Manchester Business School. His career started in banking: trading in capital markets helped him accumulate knowledge of financial instruments and trading systems. Later on, Vitaliy worked as a Finance director focusing on FinTech solutions that gave profound knowledge of business processes in various industries: consumer goods production, telecommunications, retail and real estate development.
With emergence of blockchain technology Vitaliy has realized new potential as an investor and ICO researcher and now contributes as a blockchain business trainer focusing on business solutions.
Contact the Organizers:
Please reach out to us with any questions: training@altoros.com!