Public Policy Webinar: How Your Nonprofit Will Be Impacted By Proposed State Legislation (AB 60 Revised)

Wednesday, November 12, 2014 from 9:00 AM to 10:00 AM (PST)
Event Details
You are invited to a FREE webinar to hear directly from the author (Nevada Secretary of State) of new proposed state legislation that will impact charitable solicitation registration and language governing disclosure requirements by Nevada nonprofits. You will also have the opportunity to influence the legislation with your questions and feedback.
This webinar is sponsored by ANN's Advocacy Committee, Board and membership! Thank you!
Space is limited to the first 100 who register and log-in. We are expecting a full house, so log-in early! We're not entirely sure there will be a recording of this webinar, so BE SURE to register and log-in to attend "live".
Audience: Board, CEOs/EDs, Administration, Staff, Volunteers, Volunteer Trainers, Fundraisers Consultants, Service Providers, Attorneys, Accountants
Background
The Nevada Secretary of State has received comments from Nevada nonprofits around the implementation of AB 60 this year. They are proposing legislative changes like ...
Removing it from Chapter 82

Proposing creating a new chapter in Title 7 so that the requirements to complete the charitable solicitation registration apply to all entity types not just those organized under Chapter 82

Amending some of the language governing disclosure requirements to provide more clarity and elminate some of the confusion they have heard from organizations trying to comply

Adding a section that exempts certain typoe of solutions from disclosure requirements based on some best practices learned from other states as well as comments from local organizations
When you register and attend, you will ...
Learn about all the proposed changes

Receive the most up-to-date version of the proposed legislation

Learn about challenges in the implementation of AB 60

Have an opportunity to ask questions before & during the webinar

And much more!

Presenters
Nicole Lamboley, Chief Deputy, Nevada Secretary of State

Scott Anderson, Deputy for Commercial Recordings,

Nevada Secretary of State
What to Expect After Your Sign Up?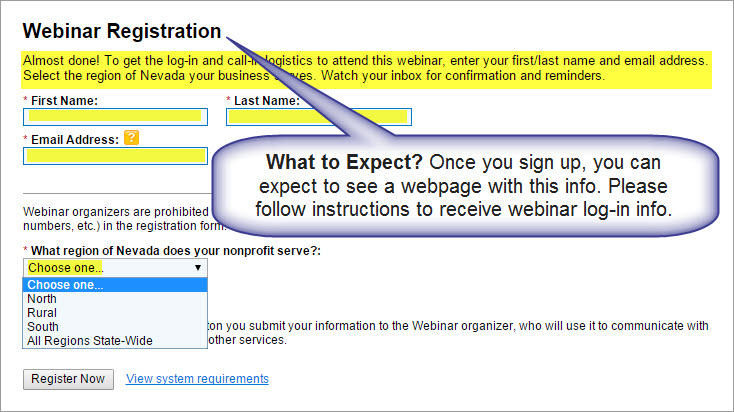 Organizer
ANN = Alliance for Nevada Nonprofits
Strengthening communities by increasing the influence and capacity of Nevada's nonprofit sector
Public Policy Webinar: How Your Nonprofit Will Be Impacted By Proposed State Legislation (AB 60 Revised)