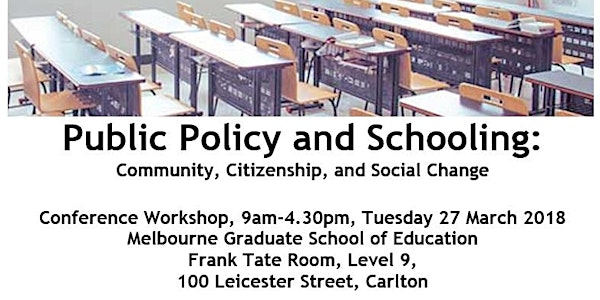 Public Policy and Schooling: Community, Citizenship and Social Change
Location
Melbourne Graduate School of Education
Frank Tate Room
Level 9, 100 Leicester Street
Carlton, Victoria 3053
Australia
Description
Public policy reforms across Australia are shifting how schools engage with, and create, community. From school autonomy, to changing funding formulas, curriculum and teacher standard reforms, anti-radicalisation initiatives, and the on-going debates surrounding sexuality and gender prompted by the 'Safe Schools program'; schools are variously imagined as cultivating particular community practices, and with this, particular versions of the 'good citizen'. Yet, what exactly is understood by community and citizenship in these debates and reforms? How are teachers, students and parents imagined in relation to the aims of schooling and in the context of significant global and national social change? This conference workshop addresses aspects of these debates. Papers explore past and present public policy reform, considering the ways in which schooling and policy are cultural sites of politics in the crafting of community and citizenship. Some of the methodological and theoretical challenges of researching policy are also explored.
Featuring: Professor Meg Maguire (Kings College London), Professor Julie McLeod, Professor Mary Lou Rasmussen, Associate Professor Helen Proctor, Associate Professor Nicole Mockler, Dr Nikki Moodie, Dr Eve Mayes, Dr Glenn Savage, Dr Jessica Gerrard, Dr Emma Rowe, Dr Shaun Rawolle, Dr Howard Prosser, Dr Emma Rowe, Dr Sophie Rudolph, Professor Marie Brennan, Elisa Di Grigorio, Sam Oldman and Mary Purcell
Program available via: http://bit.ly/2spEgVK
Followed by Melbourne Graduate School of Education Dean's Lecture, 6-7pm.
Lunch, morning and afternoon tea provided - including vegetarian and vegan options. Please contact Joanne.higginson@unimelb.edu.au to indicate dietary restrictions or preferences.
Workshop Program
9:15am-9:30am – Workshop welcome
9:30am-10:45am – Individual papers
Community, citizens and schooling: lessons from a golden age,
Associate Professor Helen Proctor, University of Sydney
Teaching standards, teachers' work and professional community: shifting terrain in the 21st Century, Associate Professor Nicole Mockler, University of Sydney
Settler grammars and Australian Professional Standards for Teachers
Dr Nikki Moodie, University of Melbourne
11am-12.15pm Individual papers
Schooling, student voice and the politics of feeling in an 'age of terror'
Dr Eve Mayes, Deakin University
Policy elixirs: community, engagement and school autonomy,
Dr Jessica Gerrard, University of Melbourne and Dr Glenn Savage, University of Western Australia
Revisiting the media's influence on education: which citizens, which communities?,
Dr Shaun Rawollle, Deakin University
12:15pm-1:00pm – Lunch
1:00pm-2:15pm – Individual papers
Private educational publicity as "public" policy,
Dr Howard Prosser, Monash University
Glocalization and whiteness in the urban education market,
Dr Emma Rowe, Deakin University
Indigenous education policy in the context of settler colonial governance,
Dr Sophie Rudolph, University of Melbourne
2:15pm-2:30pm – Break
2:30pm-3:30pm – PhD panel: Methodology and Theory in Policy Research
Assembling policy in Australian education: towards a school funding policy assemblage, Elisa Di Gregorio
Ties that bind: network analysis in education research, Sam Oldman
Researching pedagogic possibilities towards transnational literacy, Mary Purcell
Discussant and Chair: Professor Marie Brennan, Adjunct Professor, University of South Australia; Honorary Professor, Victoria University; Extraordinary Professor Stellenbosch University
3:30-4:30 – Concluding Panel: Schooling, Community and Citizenship: Contest and Ruptures
Professor Julie McLeod, University of Melbourne
Professor Meg Maguire, King's College London
Professor Mary Lou Rasmussen, Australian National University