Description
We have an update to the schedule for the night - the full meeting will be open to the public, we will have tables showcasing recent design progress and a formal presentation and open discussion from 6:00 to 7:00pm. We'll begin and end with an open format, with tables featuring different elements of the project from 5:00 to 6:00pm and 7:00 to 8:00pm. Parking will be available to the South of Alameda County Offices just past the gate off Turner Ct. The diagram below indicates the path between parking and Room 230. If there is any trouble, please call Sophie at 646 285 4278.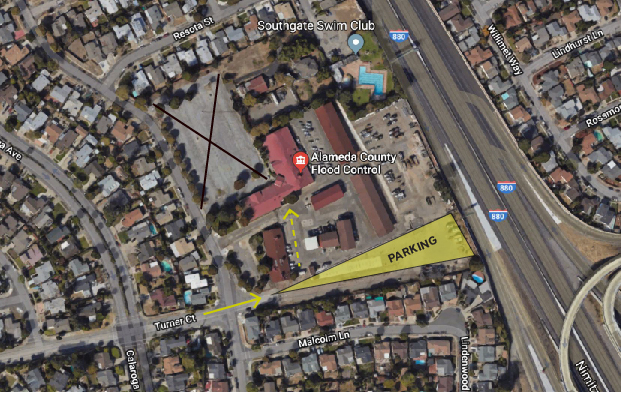 We will also have Spanish and Mandarin translators available, as well as activities for children. We hope you can make it, and that you can circulate an invite to others that you know who may be interested - RSVP and receive updates at our Eventbrite page. We look forward to all comments and critique. Contact gena@scapestudio.com with any questions or concerns.
UNLOCKING ALAMEDA CREEK: Public Meeting
Wednesday, April 18, 5 – 8pm
Alameda County Offices, Room 230
951 Turner Court, Hayward, CA 94545
Unlocking Alameda Creek is a proposal to move the sediment of Alameda Creek to the Bay to regenerate marshes and mudflats at the bay edge – the region's protective ecological infrastructure. Our team, named Public Sediment, is learning form watershed communities and working to redesign the creek to more effectively deliver sediment, reconnect steelhead with their historic spawning grounds, and organize a water-based network of communities that physically connect to the bay. This conversation is part of the Resilient by Design Bay Area Challenge that brings designers, local and regional stakeholders, and community members together to build community resilience to climate change.