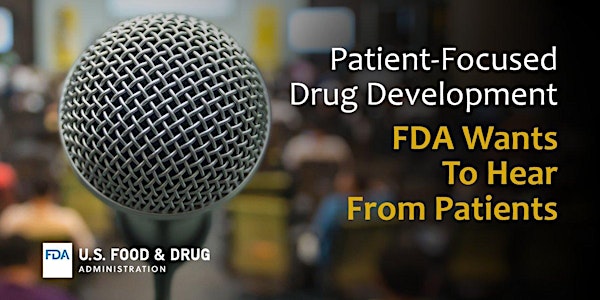 Public Meeting for Patient-Focused Drug Development on Opioid Use Disorder (OUD)
When and where
Location
FDA White Oak Campus 10903 New Hampshire Ave. Great Room (Enter at Building 1 to clear security) Silver Spring, MD 20993
Description
UPDATE: Free bus transportation will be provided by NIDA to and from FDA White Oak Campus on the day meeting from Baltimore, MD and Union Station. All buses will arive to pick-up locations at 8:00am. See details below:
Bus #1: Baltimore Maryland - John Hopkins Bayview Medical Center
Address: 251 Bayview Blvd, Baltimore, MD 21224
Departure Time:

8:30 a.m.; arrival to FDA 9:30 a.m.
Bus# 2: Baltimore, Maryland – Institutes for Behavioral Resources, Inc.
Address: 2104 Maryland Avenue, Baltimore, MD
Departure Time:

8:30 a.m.; arrival to FDA 9:30 a.m.
Bus#3: Washington, D.C. – Union Station
Address: 50 Massachusetts Ave. NE. Washington, DC
Departure time:

8:30 a.m.; arrival to FDA 9:30 a.m.
---
On April 17, 2018, FDA is hosting a public meeting on Patient-Focused Drug Development for Opioid Use Disorder (OUD), in collaboration with National Institute of Drug Abuse (NIDA). In addition to NIDA, FDA is also working closely with patient advocacy and community organizations to encourage participation from persons with OUD. This meeting aligns with FDA's ongoing work aimed at reducing the impact of opioid abuse and addiction.
FDA is interested in learning patients' perspectives on OUD, including the effects on their health and well-being that have the greatest impact on daily life, their experience using prescription medical treatments and other treatments or therapies for OUD, and challenges or barriers to accessing or using medical treatments for OUD.
The questions that will be asked of individuals with OUD at the meeting are listed below, organized by topic. For each topic, a brief initial panel of individuals with OUD and/or persons' representing individuals with OUD will begin the dialogue. This will be followed by a facilitated discussion inviting comments from other participants in the audience. Webcast participants will also have an opportunity to provide input through webcast comments.
If you are attending the meeting in person and are interested in providing comments as part of the initial panel discussion on April 17th, indicate so during the registration process. Potential panelists must send a brief summary of responses to the discussion questions below by April 6th to PatientFocused@fda.hhs.gov . Panelists will be confirmed prior to the meeting.
Meeting participants may remain anonymous during registration, when submitting summary responses, and during the meeting. Contact information provided during registration will remain confidential and only used to send meeting updates and information to participants. You may enter anonymous in the first and last name field for contact information during registration.
There will also be an opportunity for individuals with OUD, representatives/advocates and others to provide comments on issues other than topics 1 and 2 during an Open Public Comment session. Sign-up for Open Public Comment will occur on-site during the day of the meeting.
FDA will be streaming a live audio recording of the meeting with the presentation slides, which is open to the public at: https://collaboration.fda.gov/pfdd041718/. The audio recording and presentation slides, along with a meeting transcript and summary report, will also be made publicly available after the meeting. Because of the sensitive nature of the meeting topic, and the importance of gathering candid, meaningful input from individuals who have come forward to speak about living with opioid use disorder, no other audio recording, video recording, and/or photography will be allowed at this Patient-Focused Drug Development meeting. FDA is asking for your cooperation and strongly requests that you respect the privacy of all attendees.
For more information, please visit the FDA meeting website:
http://www.fda.gov/ForIndustry/UserFees/PrescriptionDrugUserFee/ucm591290.htm
---
DISCUSSION QUESTIONS
Topic 1: Symptoms and daily impacts that matter most

1. Of all the ways that OUD negatively affects your health and well-being, which effects have the most significant impact on your daily life? Examples of negative effects may include:
a) Effects of using opioids, such as confusion, constipation, or other symptoms;
b) Effects of opioid withdrawal, such as nausea, diarrhea, or other symptoms;
c) Effects of opioid "cravings";
d) Impacts on your ability to function in your personal or professional life;
e) Emotional or social effects; and
f) Other potential effects.
2. How does OUD affect daily life on the best days? On the worst days?

3. How has your OUD changed over time?

4. What worries you most about your condition?
Topic 2: Perspectives on current approaches to treatment
1. Are you currently using, or have you used in the past, any prescription medical treatments to treat your OUD? Such treatments may include buprenorphine, methadone and naltrexone, and others that your healthcare provider has prescribed. If so, please describe your experiences with these treatments.
a) How well have these treatments worked for you? How well have they helped address the effects of OUD that are most bothersome to you?
b) What are the biggest problems you have faced in using these treatments? Examples may include bothersome side effects, challenges getting the medicines, concern about stigma, and other possible problems.
2. Besides prescription medical treatments, are there other treatments or therapies that you currently use to address your OUD? If so, please describe. How well do these treatments or therapies help address the effects of OUD that are most bothersome to you?

3. Of all treatments, therapies, or other steps that you have taken to address your OUD, what have you found to be most effective in helping you manage your OUD?

4. What are the biggest factors that you take into account when making decisions about seeking out or using treatments for OUD?

5. What specific things would you look for in an ideal treatment for OUD?
If you had the opportunity to consider participating in a clinical trial studying experimental treatments for OUD, what factors would you consider when deciding whether or not to participate?