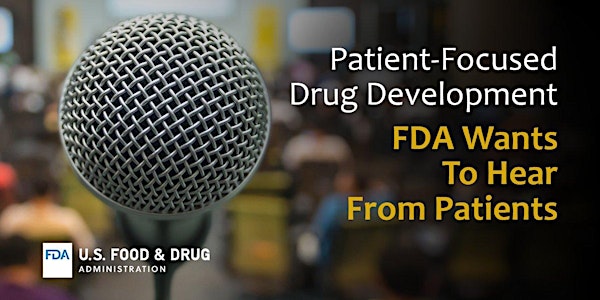 Public Meeting for Patient-Focused Drug Development on Alopecia Areata
When and where
Location
FDA White Oak Campus 10903 New Hampshire Ave. Great Room (Enter at Building 1 to clear security) Silver Spring, MD 20993
Description
On September 11, 2017, FDA is conducting a public meeting on Patient-Focused Drug Development for Alopecia Areata. The public meeting is intended to allow FDA to obtain patient perspectives on the impact of alopecia areata, including on daily life, patient views on treatment approaches, and decision factors taken into account when selecting a treatment.
The questions that will be asked of patients and patient stakeholders at the meeting are listed below, organized by topic. For each topic, a brief initial patient panel discussion will begin the dialogue. This will be followed by a facilitated discussion inviting comments from other patient and patient stakeholder participants in the audience. Webcast participants will also have an opportunity to provide input through webcast comments.
If you are attending the meeting in person and are interested in providing comments as part of the initial panel discussion, indicate so during the registration process. Potential panelists must send a brief summary of responses to the discussion questions below by August 21st to PatientFocused@fda.hhs.gov. Panelists will be confirmed prior to the meeting.
There will also be an opportunity for patients, patient representatives and others to provide comments on issues other than topics 1 and 2 during an Open Public Comment session. Sign-up for Open Public Comment will take place the day of the meeting.
For more information, please visit the FDA meeting website:
https://www.fda.gov/ForIndustry/UserFees/PrescriptionDrugUserFee/ucm554443.htm
---
DISCUSSION QUESTIONS
Topic 1: Disease symptoms and daily impacts that matter most to patients
1. Of all the symptoms or disease manifestations that you experience because of your condition, which 1-3 symptoms or manifestations have the most significant impact on your life? (Examples may include location or type of hair loss [i.e. loss of hair on scalp, loss of eyebrows, loss of all hair on body patchy hair loss], nail changes, hair quality upon regrowth)
2. Are there specific activities that are important to you but that you cannot do at all or as fully as you would like because of your condition? (Examples of activities may include daily hygiene, engagement in personal relationships, participation in sports or social activities, completion of school or work activities, etc.)
3. How do your symptoms and their negative impacts affect your daily life on the best days? On the worst days?
4. How has your condition changed over time? Would you define your condition today as being well-managed?
5. What worries you most about your condition?
Topic 2: Patients' perspectives on current approaches to treatment
1. What are you currently doing to help treat your condition or its symptoms? (Examples may include prescription medicines, over-the-counter products, and non-drug therapies such as diet modification) How has your treatment regimen changed over time, and why?
2. How well does your current treatment regimen control your condition? How well have these treatments worked for you as your condition has changed over time?'
3. What are the most significant downsides to your current treatments, and how do they affect your daily life? (Examples of downsides may include going to the clinic for treatment, time devoted to treatment, side effects of treatment, route of administration, etc.)
4. What specific things would you look for in an ideal treatment for your condition? What would you consider to be a meaningful improvement in your condition that a treatment could provide?
5. What factors do you take into account when making decisions about selecting a course of treatment?