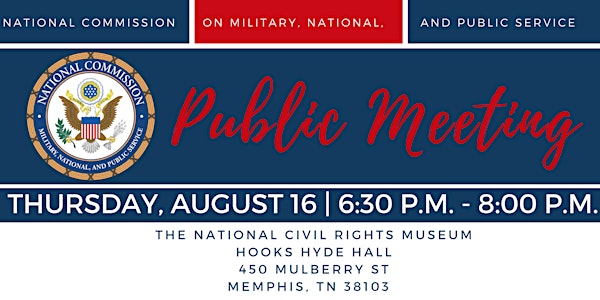 Public Meeting | Building on a Legacy of Civic Engagement – Roles and Respo...
Location
National Civil Rights Museum
Hooks Hyde Hall
450 Mulberry St
Memphis, TN 38103
Description
The National Commission on Military, National, and Public Service is excited to visit and host a public meeting in Memphis, TN—a city known for its civic engagement.
Join us for a public meeting in Memphis on Thursday, August 16 from 6:30 p.m. to 8:00 p.m. at the National Civil Rights Museum at the Lorraine Motel. The meeting will open with an overview of the Commission and include a panel of community leaders who will address the history and current state of civic engagement in Memphis as well as explore how individuals can contribute in today's modern society, specifically in public, national, or military service. The public meeting will conclude with a Q&A and public comment session where the audience can engage the panel and discuss how they can contribute to and serve the city of Memphis. Audience members can also share any ideas and thoughts related to the Commission's mandate.
The Commission was created by Congress to consider and develop recommendations to find ways to encourage and inspire more Americans to serve their country and communities and review the military selective service process. The Commission is igniting a national conversation about the value and importance of service as it develops recommendations for the American public, Congress, and the President by March 2020. The Commission is gathering recommendations by holding public meetings, visiting service sites, talking with young people, and meeting with government, nonprofit, civic, and for-profit leaders.
Join the conversation – RSVP Today!