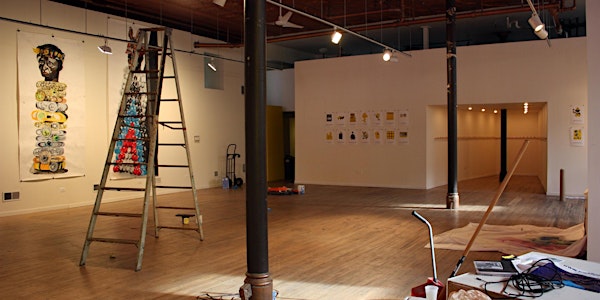 Public Media Millennials THIRD COAST Afterparty / Live Taping of THE PUB
By Adam Ragusea & Stephanie Wolf
When and where
Date and time
November 12, 2016 · 10pm - November 13, 2016 · 1am CST
Location
Co-Prosperity Sphere 3219 South Morgan Street Chicago, IL 60607
Description
The Public Media Millenials Facebook group invites you to booze it up and talk shop late into the night after Saturday's Third Coast sessions at this super-hip event space run by the Public Media Institute (the good people behind Chicago's newest LPFM station, Lumpen Radio).
The evening will include a 40-minute live recording of The Pub, Current's podcast for people in public media. Host Adam Ragusea will do a live show . . . about how to do live shows. WBEZ event producer Tyler Greene will demonstrate how they get (and keep) the crowd excited for "Wait Wait...Don't Tell Me!" recordings, and Panoply host/producer Andrea Silenzi will dish about that time when Mike Pesca asked her to find a photo ​of a bald eagle wrapped in bacon just moments before a live edition of "The Gist" (and other misadventures in live show production).
Doors open at 10 p.m., show starts at 10:30, and we must be out by 1 a.m. Admission is free, but please register. And no, you don't have to be a millenial, work in public media, or be attending Third Coast in order to attend this party!
TWO IMPORTANT LOGISTICAL NOTES:
1) The Co-Prosperity Sphere is in Chicago's Bridgeport neighborhood, almost three miles from the Hyatt Regency McCormick Place, where Third Coast is happening. There's no easy public transit, so you'll need to Uber or taxi over and back. We encourage sharing cars!

2) The party is BYOB! We organizers (Adam and Colorado Public Radio's Stephanie Wolf) are putting up our own money for facility costs, so we hope you can help us out by buying plenty of adult beverages. There's a hipster liquor store called Maria's Packaged Goods & Community Bar about two blocks from our venue, 960 W 31st Street.
About the organizer
We're members of the Public Media Millennials Facebook group. Stephanie is a producer and reporter for Colorado Public Radio's "Colorado Matters." Adam teaches journalism at Mercer University and hosts Current's "The Pub."