Public Lecture—Pictures of Other Worlds: Exploring the Atmospheres of Exoplanets

Tuesday, May 19, 2015 from 7:30 PM to 8:30 PM (PDT)
Event Details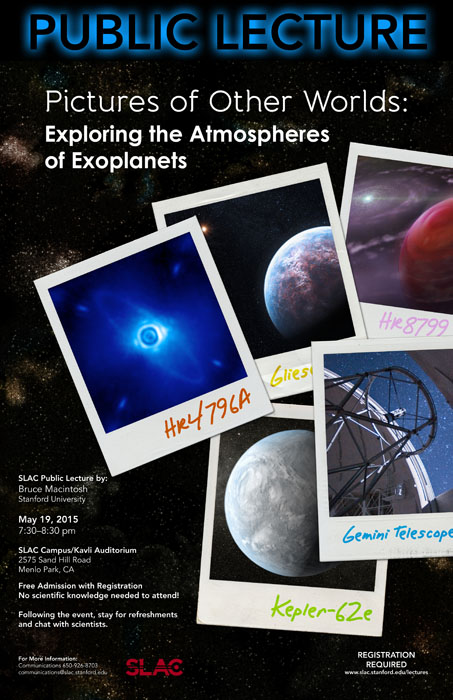 In less than two decades, scientists have discovered more than a thousand planets orbiting other stars. Now we know that our solar system is not alone ­-- but we still do not know if it is rare or unique. Most of these new planets were not seen directly, but instead were discovered through their influence on their parent star. Directly imaging an exoplanet is very difficult; it requires blocking out the bright light from the star to reveal the faint planet nearby. The Earth, for instance, is 10 billion times fainter than the sun. But now it can be done. This lecture will present the first-ever images of planets orbiting other stars. It will describe the advances that made these observations possible and present the Gemini Planet Imager, a new advanced-technology camera specifically designed for exoplanet studies and deployed in 2013 on the Gemini Telescope in Chile. It will then describe the future of exoplanetary studies and the prospects for achieving the ultimate goal -- the detection of a second "pale blue dot," an Earth twin with evidence for water and extrasolar life.
The lecture is free, but seating is limited and registration is required for entry. If you register and later find you are unable to attend, we ask that you cancel your registration to make room for those on the waiting list.
View live stream (begins May 19 at 7:30 p.m.)
Bruce Macintosh is a professor in the Stanford University Physics Department and the Kavli Institute for Particle Astrophysics and Cosmology, a joint Stanford/SLAC institute. He obtained his PhD at UCLA, working on infrared instrumentation and searches for low-mass companions to stars. As a postdoctoral researcher and staff scientist at Lawrence Livermore National Laboratory, he worked on using adaptive optics to sharpen images made by ground-based telescopes at Lick and Keck observatories. He co-led the team that made the first-ever images of an extrasolar planetary system, discovering four giant planets orbiting the young star HR8799. He is principal investigator for the Gemini Planet Imager.
When & Where

Kavli Auditorium

2575 Sand Hill Road
Menlo Park, CA 94025


Tuesday, May 19, 2015 from 7:30 PM to 8:30 PM (PDT)
Add to my calendar
Organizer
SLAC National Accelerator Laboratory
Public Lecture—Pictures of Other Worlds: Exploring the Atmospheres of Exoplanets