Public Lecture—Molecular Movies

Tuesday, September 29, 2015 from 7:30 PM to 8:30 PM (PDT)
Event Details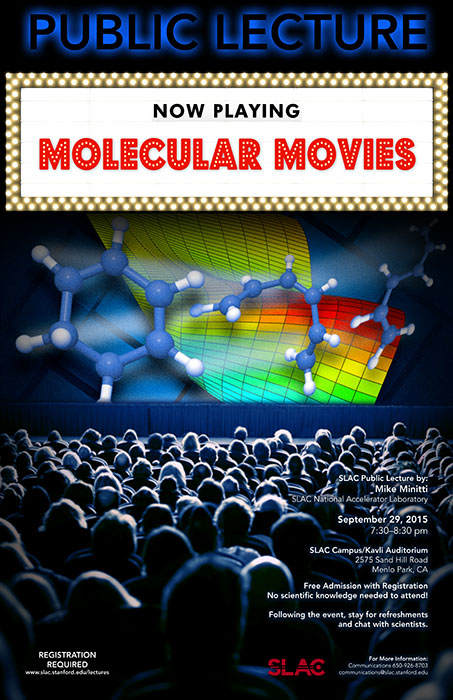 Since it began operation in 2009, SLAC's Linac Coherent Light Source (LCLS) has allowed scientists to make new types of X-ray measurements that were once thought unattainable by delivering one trillion X-ray photons ­– particles of X-ray light – in incredibly short bursts of less than 30 femtoseconds, or millionths of a billionth of a second. We promised that this astonishing quantity of photons, delivered in such a small slice of time, could capture the motions of atoms in chemical reactions. Now we have used this capability to make a "molecular movie" of a molecule undergoing a chemical reaction from start to finish, with frames just a few femtoseconds long. We assembled the movie by taking individual X-ray snapshots of the molecules that show the positions of their atoms at each moment in time. Comparing these results to computer simulations of the reaction, we determined the routes the individual atoms followed as the molecule rearranged. This is the first step in developing robust methods for visualizing molecular motions in chemistry, biology, and materials science at the atomic scale. Please enjoy the movie.
The lecture is free, but seating is limited and registration is required for entry. If you register and later find you are unable to attend, we ask that you cancel your registration to make room for those on the waiting list.
View live stream (begins September 29 at 7:30 p.m.)
A native of Arizona, Mike Minitti studied chemistry at Mesa Community College and Arizona State University, receiving his bachelor's degree in 2000. He then did graduate work in chemistry at SUNY Stony Brook and Brown University, eventually specializing in time-resolved studies of the dynamics of chemical reactions. He received a PhD from Brown in 2006. Following his interest in combining chemistry with ultrafast lasers, he did postdoctoral research at Princeton and Brown before joining SLAC as a staff scientist in 2011. Minitti now heads the Soft X-Ray Department at SLAC's Linac Coherent Light Source.
When & Where

Kavli Auditorium

2575 Sand Hill Road
Menlo Park, CA 94025


Tuesday, September 29, 2015 from 7:30 PM to 8:30 PM (PDT)
Add to my calendar
Organizer
SLAC National Accelerator Laboratory
Public Lecture—Molecular Movies