Public Lecture—Jupiter in a Bottle: Extreme States of Matter in the Laboratory

Tuesday, March 24, 2015 from 7:30 PM to 8:30 PM (PDT)
Event Details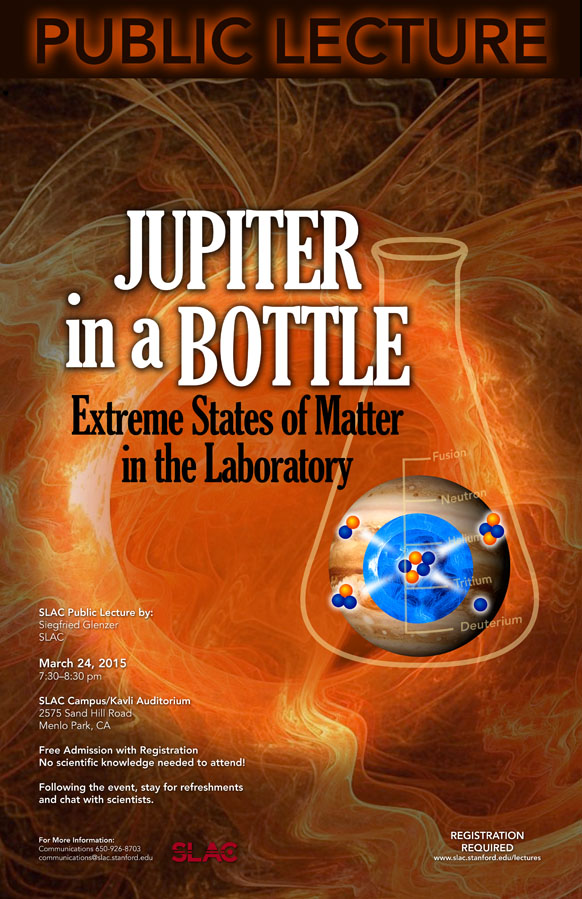 Normally we think of hydrogen as a gas. But elsewhere in the universe, hydrogen under extreme pressure can exist in more exotic states. In the center of Jupiter, hydrogen becomes liquid or even solid. In the center of the sun, hydrogen is a plasma that burns itself up by nuclear fusion. Very hot, dense hydrogen can eject particles that we see as cosmic rays. At SLAC, we are now studying these extreme states of matter in the laboratory. We apply enormous pressures to hydrogen samples and use our X-ray laser, the Linac Coherent Light Source, to take split-second photographs of the states that result. This lecture will describe these experiments. The information we are gathering has potential applications to astrophysics, controlled fusion and generation of proton beams for cancer therapy.
The lecture is free, but seating is limited and registration is required for entry. If you register and later find you are unable to attend, we ask that you cancel your registration to make room for those on the waiting list.
View live stream (begins Mar. 24 at 7:30 p.m.)
Siegfried Glenzer is the leader of the program on high energy density science at SLAC National Accelerator Laboratory. He joined SLAC as a distinguished scientist in 2013 to build a new program exploring matter in extreme conditions using high-power lasers and the Linac Coherent Light Source, SLAC's X-ray laser.
Glenzer did his undergraduate and graduate study at the Ruhr University in Bochum, Germany, where he received his PhD in 1994. He then went to Lawrence Livermore National Laboratory as a postdoctoral fellow and, in time, became the laboratory's group leader for plasma physics. At Livermore, he led the first inertial confinement fusion experiments on the National Ignition Facility. He has been a visiting lecturer at the University of California, Berkeley and an Alexander von Humboldt senior fellow at the University of Rostock and the Deutsche Elektronen Synchrotron (DESY) in Hamburg, Germany. Glenzer is a fellow of the American Physical Society and was awarded the society's 2003 John Dawson Award for Excellence in Plasma Physics Research. In 2014, he received the Ernest O. Lawrence Award of the U. S. Department of Energy.
When & Where

Kavli Auditorium

2575 Sand Hill Road
Menlo Park, CA 94025


Tuesday, March 24, 2015 from 7:30 PM to 8:30 PM (PDT)
Add to my calendar
Organizer
SLAC National Accelerator Laboratory
Public Lecture—Jupiter in a Bottle: Extreme States of Matter in the Laboratory