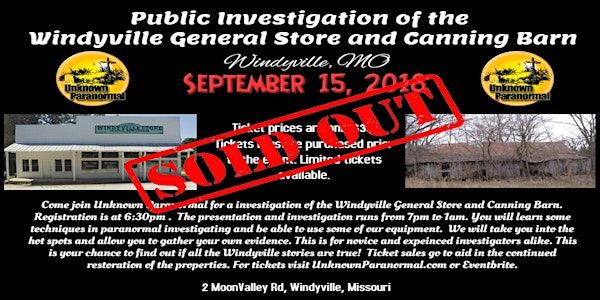 Public Investigation (Ghost Hunt) of the Windyville General Store and Canni...
Event Information
Location
Windyville Cozy Cottage LLC
2 Moon Valley Road
Windyville, MO 65783
Refund policy
Refunds up to 30 days before event
Description
We've all read the stories about all the hauntings in Windyville. There has been twins that were eaten by wolves, mother and child that fell into a well, a lost boy, and of course, that the entire town was built on top of a native american burial site.
A story is just that, a story! Unless you find evidence to prove it! Here's your chance to come investigate an area that has been written about several times by different authors. Take a walk back in history and see what you will find.
Come join Unknown Paranormal on an actual paranormal investigation. The evening starts with a presentation that explains some of the techniques used in investigating, some history of Windyville, and a review of some of the best evidence captured by our team. Then we take a very short break and then split into groups. You will investigate with us in both locations and then you'll be turned loose to conduct your very own investigation.
Do you have equipment? Bring it and use it. Don't have equipment? Don't worry, we'll let you use some of ours.
Tickets are only $35.00, and the money aids in the restoration of the property. This is an 16+ event. Under 18 must be accompanied by an adult. No alcohol before or during the event. If anyone is found to be consuming alcohol, you will be asked to leave without refund. All sales are final. Limited ticket sales, so get your ticket fast, as this location will sell out quickly!
Rooms for the night are sold!
If you have any questions, please visit UnknownParanormal.com and hit the live chat button. We are happy to help!
Date and time
Location
Windyville Cozy Cottage LLC
2 Moon Valley Road
Windyville, MO 65783
Refund policy
Refunds up to 30 days before event