Public Housing & Activism Series Pt. III (05/09/17) Resisting Displacement in Boyle Heights

Tuesday, May 9, 2017 from 5:30 PM to 7:30 PM (PDT)
Event Details


Tuesday, May 9, 2017
5:30PM - 7:30PM
UCLA Public Affairs, PAB 2355
PAB room 2355, 2nd Floor, UCLA Luskin School of Public Affairs
337 Charles E. Young Drive East, Los Angeles, 90024
**Light refreshments will be served. Please bring your own beverage**


Public Housing & Activism Series Pt. III:
Gente Si, Gentrify No: Resisting Displacement in Boyle Heights 


Activists, residents, and community members will come together to discuss the struggle against gentrification and displacement in Boyle Heights. Boyle Heights is at the epicenter of a spatially contested struggle for shelter in the midst of Los Angeles' crisis of housing affordability. This renewed interested in the neighborhood comes after decades of disinvestment, racial discrimination, and substandard employment opportunities for its long-term residents. As a historic entry point for Mexican immigrants into the country, gentrification in Boyle Heights has not only taken a toll on the neighborhood's most vulnerable populations, but it has eroded the vital social and cultural institutions of self-determination. But the threat of displacement has also inspired a rigorous and thriving social movement in response. In a moderated discussion, panelists will explore the realities of gentrification and the organizing that has emerged as a response to provide context to the debate about gentrification in the neighborhood, and similar debates taking place across Los Angeles.


MODERATOR:
Ananya Roy, Professor of Urban Planning, Social Welfare, and Geography, and Director of the Institute on Inequality and Democracy, UCLA Luskin School of Public Affairs

PANELISTS:
Alessandro Negrete, Outreach Officer, Boyle Heights Neighborhood Council

Elizabeth Blaney, Co-Executive Director, Union de Vecinos

Pete White, Executive Director and Founder, Los Angeles Community Action Network

Zacil Pech, Member, Defend Boyle Heights

Nico Avina, Co-Owner, Espacio 1839
**************************

PRESENTED BY: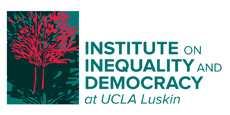 **************************

Directions to UCLA Luskin School of Public Affairs: 
http://luskin.ucla.edu/content/visit-us
PARKING ($12.00/car) UCLA Lot 3 or Lot 2 (depending on availability):
The UCLA Luskin School of Public Affairs building is located in the northeast section of the UCLA campus, adjacent to the Murphy Sculpture Garden. Visitors to the Public Affairs Building should plan on entering campus at the Westholme entrance off Hilgard Avenue, then drive up to the Lot 2 kiosk and pay the attendant for parking in UCLA Lot 3 or Lot 2 (depending on availability).

View the Luskin School of Public Affairs location on the UCLA interactive campus map.
**************************
For questions, please contact Julie Lindner at: julie.lindner@anderson.ucla.edu
When & Where

UCLA Luskin School of Public Affairs
337 Charles E. Young Drive East
PAB Room 2355
Los Angeles, CA 90095


Tuesday, May 9, 2017 from 5:30 PM to 7:30 PM (PDT)
Add to my calendar
Organizer
The UCLA Ziman Center for Real Estate is a joint center with the UCLA Anderson School of Management and UCLA School of Law, formed to advance thought leadership in the field of real estate by generating influential research, educating the next generation of leaders, and providing meaningful forums for industry professionals and policymakers. Through its various activities and programs, the Center employs a multidisciplinary and global approach to addressing the most critical real estate challenges facing our society today and in the future.