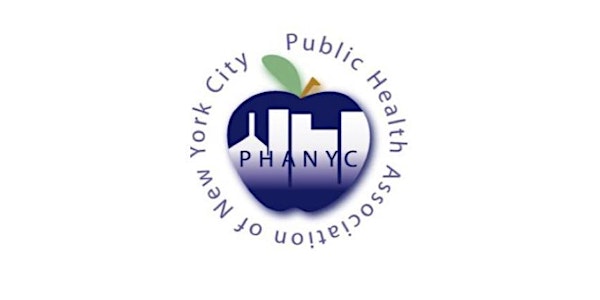 Public Health Association of NYC Annual Meeting and Student Symposium
When and where
Location
LGBT Center 208 West 13th Street, New York, NY
Description
The Public Health Association of New York City (PHANYC) will hold its
Annual Meeting and Student Symposium
on June 1, 2017
at the LGBT Center at 208 West 13th Street
3:00 pm – 7:00 pm
FEATURED SPEAKERS
Tom Quade, American Public Health Association President
Using Our Ears to Find Our Voice: Beyond Our Echo Chamber
Alison Braid, MA, MPH candidate
ACA: A Game Changer for Women
Lois Uttley, MPP, Director of MergerWatch Project | Raising Women's Voices-NY
What's at Stake for Women If Trumpcare Becomes Law?
Mark Hannay, Director, Metro New York Health Care for All
Health Bills, Political Dynamics, Advocacy and Mobilization in New York
Margrethe Horlyck-Romanovsky, MPH, Doctoral Candidate, Public Health, CUNY School of Public Health and Health Policy & Adjunct Lecturer, Brooklyn College
BMI and Type 2 diabetes in foreign-born vs. US-born Blacks
Mia Stange
Medical-Legal Partnership to Assist Undocumented Immigrant Children in the Bronx
Kavitha Das, Senior Scientist, Mount Sinai Hospital, & Director, Fixed Prosthodontic Course, NYU Lutheran Dental, Brooklyn, NY, & Advisor, Asia Initiatives
Social Credit Capital
Learn about PHANYC! Share your ideas!
Meet other public health professionals! Make connections!
ATTENDANCE IS FREE OF CHARGE!
Notice of Photography:
Please be aware that by attending the event, you consent to your photographs, voice, name, and/or likeness being used without compensation in films and tapes for exploitation in any and all media, whether now known or hereafter devised, for eternity, and you release the Public Health Association of New York City, its successors, assigns, and licensees from any liability whatsoever of any nature.
If you do not wish to be subject to the foregoing, please do not enter the event area.