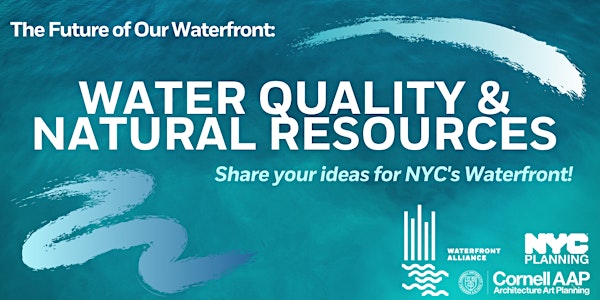 Public Forum: Water Quality and Natural Resources
Public Forum to Inform the next NYC Comprehensive Waterfront Plan: Water Quality and Natural Resources
When and where
Location
Cornell University College of Architecture, Art, and Planning 26 Broadway New York, NY 10004
About this event
The Waterfront Alliance, in partnership with the New York City Department of City Planning (DCP) and co-hosted by the Cornell College of Architecture, Art, and Planning, invites you to join us for an upcoming public forum on the future of our waterfront.
Next year, DCP will release the next NYC Comprehensive Waterfront Plan, which will guide waterfront planning and policy for the city for the next 10 years. This is an important time to set the course of action for our waterfront for the next decade and beyond.
What should the future of NYC's waterfront look like?
As part of a city-wide community engagement and research gathering effort, these forums are an important opportunity for New Yorkers to learn and engage around key waterfront issues and to actively inform the waterfront planning process.
Specifically, this forum will seek input on the state of water quality and natural resources. Ecological and shoreline restoration, water quality improvement, and enhanced public access have changed the face of NYC's waterfronts. Improving water quality, diverse native habitats and green infrastructure, among other natural resources, requires investment, environmentally sound planning, policies, education, and stewardship. Come share your thoughts!
This forum will convene the general public and local stakeholders — environmental advocates, community groups and leaders, local organizations, and waterfront enthusiasts of all kinds!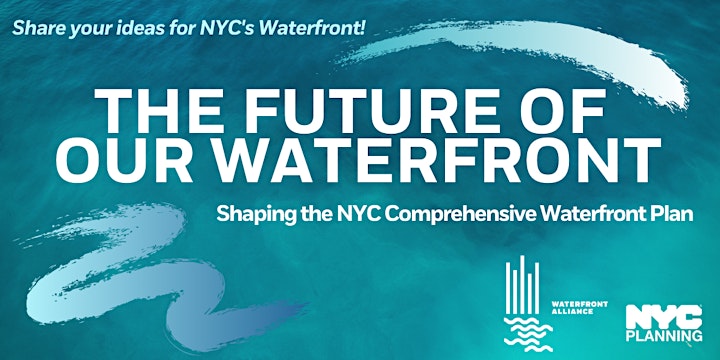 Additional Public Forums:
Stay tuned for January 2020 forums!