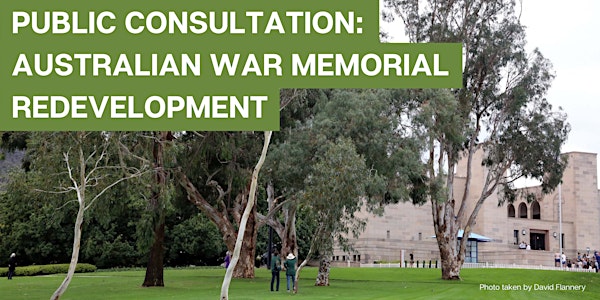 Public consultation: Australian War Memorial redevelopment
Event Information
Location
The Griffin Centre
20 Genge Street
Canberra, ACT 2600
Australia
A coalition of concerned citizens will be holding a public meeting to discuss the Australian War Memorial redevelopment.
About this event
This public meeting will take place at 6.30pm on Thursday 29 April at the Griffin Centre to discuss the proposed War Memorial redevelopment.
We will consider the substance of the proposal, the demolition of Anzac Hall, and the impact it will have on Canberra's heritage, its surrounding environment, and this important place of reflection.
Please be sure to RSVP if you are attending to help us keep the event COVID-safe.
This meeting is inspired by the past week, where hundreds of people have written submissions to the NCA expressing concerns over the destruction of 116 trees surrounding the War Memorial as part of the 'early works' for the redevelopment. We are confident that with this many submissions, the NCA won't be able to simply rubber-stamp this approval, and must instead undertake genuine consultation.
We will show the War Memorial, and the general public, that this is what consultation looks like.
Please spread the word and come along.
This consultation is supported by:





Date and time
Location
The Griffin Centre
20 Genge Street
Canberra, ACT 2600
Australia