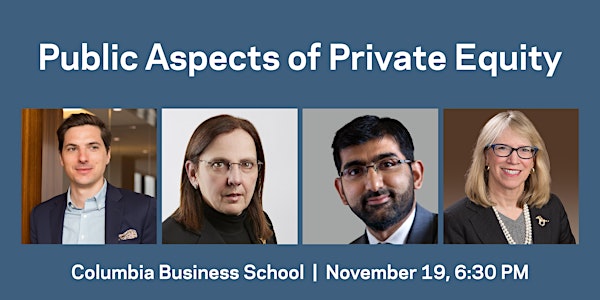 Public Aspects of Private Equity
Join the Richman Center, the Millstein Center, and the Private Equity Program in exploring the public aspects of private equity.
When and where
Location
Columbia Business School, Room 142 Uris Hall, Room 142 3022 Broadway New York, NY 10027
About this event
Chris Cozzone, Principal, Bain Capital Double Impact
Donna Hitscherich, Senior Lecturer in the Discipline of Business and Director, Private Equity Program
Theresa Whitmarsh, Executive Director, Washington State Investment Board
Moderated by Aamir A. Rehman, Senior Fellow, Richman Center
Private equity plays an important role in investment markets and the broader economy. Private equity funds—managed by general partners, or GPs—take stakes in companies, exercise control, and actively seek to improve the performance of their portfolio companies. They do so in pursuit of financial returns for their investors (limited partners, or LPs) higher than the returns available in public markets. Private equity has become a key engine of investment markets, seeking absolute return while driving performance and efficiency in portfolio companies. Private equity is by definition private, and its activities are generally opaque.
This event will explore the public aspects of private equity, including questions such as:
What public impact does private equity have?
What ESG (environmental, social, and governance) considerations, if any, should GPs consider in their activities? Does the involvement of public institutions as LPs affect the social responsibilities of a fund?
Are there trade-offs between financial return and ESG considerations?
What actions do LPs take to align the activities of the funds in which they invest with their own ESG commitments and values? How do these actions compare across asset classes?
How are pioneer asset managers navigating these complex issues? What best practices can they offer?
What role, if any, should public institutions—for example, pension funds and endowments—play in seeking public good as LPs in private equity funds?
Co-sponsored by the Richard Paul Richman Center for Business, Law, and Public Policy and the Ira M. Millstein Center for Global Markets and Corporate Ownership, in partnership with the Private Equity Program. This event is open to the public and on the record. Registration is required.
This event is open to the public and on the record. Registration is required to attend. By attending, you consent to appearing in any photos or videos produced by the event organizer or affiliated third parties. No personal recordings are allowed. If you have any questions or concerns, please contact us in advance at richmancenter@gsb.columbia.edu.