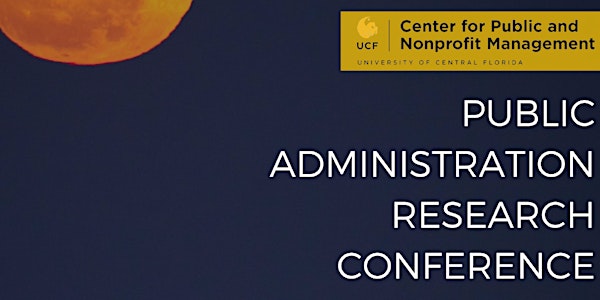 Public Administration Research Conference, University of Central Florida
When and where
Location
Live Oak Event Center 4115 Pyxis Lane Orlando, FL 32816
Refund Policy
Refunds up to 7 days before event
Description
The 12th Annual Public Administration Research Conference, A Return to Governance in Dark Times? Creating Spaces for Citizen Dialogue, Encouraging Engagement in Public Life, and Ensuring Government Transparency and Accountability, will be held at the UCF Live Oak Event Center on Friday, April 13, 2018. A keynote address "You Don't Know What You've Got Till It's Gone: Rescuing the Light of Public Space" will by delivered by Camilla Stivers, Ph.D., a Distinguished Professor Emerita of Public Administration at Levin College, Cleveland State University, and author of "Governance in Dark Times: Practical Philosophy for Public Service." Academics, practitioners, and students are invited to participate in robust conversation. Students are offered a subsidized registration fee.
On April 12, please join us for pre-conference activities with our keynote speaker Dr. Camilla Stivers. See pre-conference schedule below. These events are available as free tickets.

Pre-Conference Events: Thursday, April 12
1:00pm-3:00pm Doctoral Workshop
Location: UCF Health and Public Affairs Building II, Room 247
3:00pm-4:30pm Eminent Scholars Lecture Series featuring Camilla Stivers, Ph.D.
Location: UCF Health and Public Affairs Building II, Room 247
5:00pm-7:00pm Welcome and Networking Reception for conference registrants

Location: Marlow's Tavern, Waterford Lakes Town Center
Conference Schedule: Friday, April 13
(PDF version of the schedule available at https://ucfparc.files.wordpress.com/2018/03/parc-2018-working-agenda.pdf)

Location: Live Oak Event Center, University of Central Florida, Orlando, FL
8:00-8:30 a.m. Registration, Continental Breakfast, Student Poster Viewing
8:30-8:45 a.m. Conference Opening and Overview
8:45-9:00 a.m. Break/Student Poster Viewing
9:00-10:30 a.m. Session 1 (Panels 1-3 Concurrent)
Panel 1 Community Engagement in Planning & Economic Development
Presentations
There goes the neighborhood: The impacts of common-interest developments upon municipality property values and tax collections
Rabina Bissessar
Sarah Larson, Ph.D.
Then and Now: Reducing Inequality, Creating Economic Growth, and Citizen Engagement and Public Participation through Planning Processes in Miami, Florida and Denver, Colorado
Kristina Wright
Planning Processes for Disaster Memorials: Implications for Land Use and Community Engagement
Chris Hawkins, Ph.D.
Roberta Fennessey
Immigrant Entrepreneurship and Economic Development: A Local Policy Perspective
Xi Huang, Ph.D.
Cathy Yang Liu, Ph.D.
Panel 2 Citizen Participation in Government Budgeting & Rulemaking
Presentations
Citizen Engagement in Rulemaking: Evidence on Regulatory Practices in 185 Countries
Valentina Saltane
Joseph Lemoine
Can coproduction increase the engagement among citizens? The case of the participatory budgeting in Taiwan
Yun-Hsiang Hsu, Ph.D.
Hyungjo, Hur
The Administrative Procedure Act and Public Involvement in American Environmental Rulemaking
Andrew Carter, Ph.D.
Panel 3 Theoretical Approaches to Governance & Decision-Making
Presentations
A Critical Analysis of Administrative Discretion in Representative and Street-Level Bureaucracies through Lenses of Socio-Psychological Theories
Suparna Dutta
Power Distribution and Decision-Making in Network Governance
Naim Kapucu, Ph.D.
Qian Hu, Ph.D.
A study on the Governance Measurement
Tae Yeon Hwang
Min Chul Hong
JooYeon Song
Jung Mo Yoo
Myung SukLee, Ph.D.
Darkest Before the Dawn: Toward 21st Century Socialist Administration
Jay Jurie, Ph.D.
10:30-10:45 a.m. Break/Student Poster Viewing
10:45-12:15 p.m. Session 2 (Panels 4-6 Concurrent)
Panel 4 Overcoming Inequality for Socially Vulnerable Population Groups
Presentations
Engaging the Community in Transitional Housing Issues: The work of nonprofits in Central Florida
Andrea Ortega
How do we get there from here? Mapping social vulnerability and OBGYN shortages
Danielle Atkins, Ph.D.
Chris Emrich, Ph.D.
Kathryn Thompson
Overcoming Undermatching in Central Florida – A review of the Elevation Scholars Program
Gaslande Fleurimont
Panel 5 Government Accountability & Citizen Trust
Presentations
Exercising Authentic Citizen Participation to Improve Public Trust: The Case of Water-Resource Development in Taiwan
Yinglee Tseng
"Collaborative Governance" in the Dark Time: The Case of Economic Development Policy in Thailand's Undemocratic Regime
Ruechagorn Trairatananusorn
Corruption and Accountability: Panamagate in Pakistan
Sana Khosa, Ph.D.
Panel 6 Disaster & Emergency Management and Recovery
Presentations
Exploring the Relationship between FEMA's Community Rating System and Business Disaster Recovery to Hurricane Irma
Jenna Tyler
The Function of Social Media in Public Participation in Chinese Emergency Management
Wu Chen
Overcoming Irma City of Fort Lauderdale
Marsha Noel
12:15-12:30 p.m. Break/Student Poster Viewing
12:30-2:00 p.m. Lunch and Keynote Address
You Don't Know What You've Got Till It's Gone: Rescuing the Light of Public Space
Camilla Stivers, Ph.D.
2:00-2:15 p.m. Break
2:15 – 3:45 p.m. Session 3 (Panels 7-9 Concurrent)
Panel 7 Governance Through Public-Private Partnerships and Outsourcing
Presentations
Public Private Differences in Hospital Approaches to Population Health
Danielle Atkins, Ph.D.
Meghan Gabriel, Ph.D.
A Comparative Analysis of International Travel Efficiency in the United States: Security Delays in Federally-Managed and Public-Private Partnership (PPP) Airports
Michael Turtz
Modeling, Optimization and Simulation of Public Service Outsourcing Process
Rui Yang
Pay for Performance, Social Impact Bonds and Performance-Based Contracting: Implications for Community Based Agencies
Lawrence Martin, Ph.D.
Panel 8 Citizen Engagement Through E-Government & Social Media
Presentations
Tweet this! Politician Twitter Trends surrounding the 2016 election
Jennifer Sanguiliano
Looking at Citizen Trust in Online Communication
Daniel Seigler, Ph.D.
Social Media and Public Values - Understanding Millennial Use Preferences
Staci Zavattaro, Ph.D.
Panel 9 Addressing Racial Crime and Discrimination
Presentations
Human Trafficking: A System Wide Public Safety and Community Approach
Jeffrey W. Goltz, Ph.D.
Archeology of Exclusion: Counter-Mapping Sites of Exclusion and Oppression in the Administrative State using GIS
Esteban Santis
The Need to Affiliate and Anti-Hispanic Attitude Formation in the United States' Growing Hispanic Population
Earl Mowatt Ph.D.
-Conference concludes at end of Session 3 (3:45 p.m.)-
For more information, please visit our website at https://ucfparc.wordpress.com/