PubCon is a virtual celebration of literature for and by our ClexaCon Community!
About this event
Join us for PubCon part II on September 26, 2020 for discussions, panels, readings and more!
PubCon will be held Remo, an interactive platform that allows you to interact with attendees and panelists! Hang out between panels and meet new friends!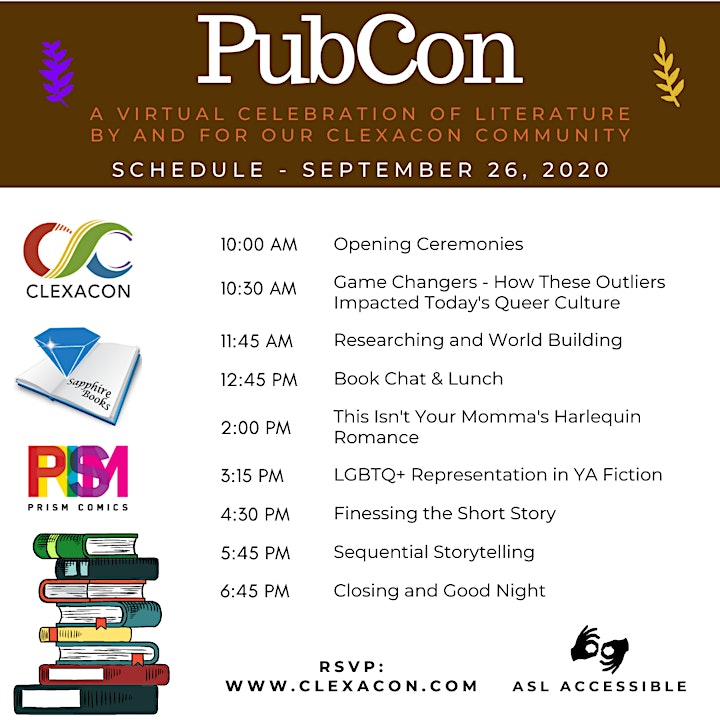 Saturday, September 26
*all events are in Pacific Time
10:00 am - Welcome to PubCon
10:30 am - Game Changers - How These Outliers Impacted Today's Queer Culture
11:45 am - Researching and world building the Historical, epic fantasy, apocalyptic and paranormal - things to watch out for in this wild world
1:00 pm - Lunch / Networking. (bring your lunch and network and meet fellow book lovers!)
2:00 pm - This isn't your momma's Harlequin Romance
3:15 pm - LGBTQ+ Representation in Comics
4:30 pm - Finessing the Short Story Arc
5:45pm - Sequential Storytelling
PubCon (Part Two) is produced by ClexaCon and our Sponsor, Sapphire Books. We would also like to thank Prism Comics for their assistance with programming and our producing partner, Triple Pocket Events.
You can either choose a free ticket, or donation-based (give what you can) to help cover the costs associated with producing PubCon.
For more info or questions, please email us at info@clexacon.com
Organizer of PubCon - a celebration of literature for and by our ClexaCon Community
ClexaCon provides a platform to build community, bringing together a diverse group of LGBTQ fans and content creators from around the world. Networking events connect filmmakers, actors and industry professionals while panels, workshops, and autograph sessions connect creators with fans. 
We aim to empower media creators to produce and distribute more positive LGBTQ content, providing educational resources for the community to aid in the push for better representation. ClexaCon strives to lay the foundation for improved visibility within the media while encouraging more LGBTQ women to participate in creating the stories they desire.