Join us for a PubTalk focused on Innovation and Technology in Agriculture!
About this event
MEDP, SEDCOR, Buildable and Launch Mid-Valley have partnered to bring this exciting conversation in McMinnville, OR. You'll be hearing updates on the Northwest Ag Innovation Hub from Alex Paraskevas, Pat Crowley, the founder and CEO of Chapul Farms will share his insights on biodiversity, and Miles Oliveira from Buildable will be sharing an exciting update on Enterprise Resource Planning for the Ag industry.
-Alex Paraskevas is the Polk County Business Retention and Expansion Manager at the Strategic Economic Development Corporation (SEDCOR), serving businesses and communities as a strategist, connector, and partner. As a nonprofit regional economic development organization, SEDCOR serves Marion, Polk, and Yamhill counties and works with businesses to make sure they're happy, healthy, and growing. Alex serves on a variety of boards and advisory committees including Oregon State University's Extension Citizens Advisory Network; the city of Independence Planning Commission; Indy Idea Hub and soon starts a three-year term on the Oregon Beef Council.
-Pat Crowley is founder and CEO of Chapul Farms, building and scaling modular insect farms. His diverse career path has had a singular focus of ensuring the food and water availability to future generations, with previous positions as a climate modeler, hydrologist, and agronomist for state and federal agencies. He founded Chapul (the first edible cricket protein company in the US) in 2012 as a way to create a pull-through demand for the growth of the insect agriculture industry. This path led him to an appearance on ABC's Shark Tank, securing an investment from Mark Cuban, into a brand that reached national distribution as the first of its kind. Addressing today's growth needs of the industry, Chapul Farms' mission is to increase biodiversity within agriculture, leveraging insects as a gateway to beneficial microbial ecosystems that are essential to regenerative farming, and most terrestrial ecosystems on the planet.
-Miles Oliveira is the Business Development Manager for Buildable, a Custom Software Development firm based in McMinnville, Oregon. He is passionate about solving problems through technology enablement for companies large and small. He is always looking for new ways to solve problems, new technologies to implement, and the next big idea that leads to the best return on investment for his clients. In his spare time, you can find him working on the farm with his wife and their two dogs.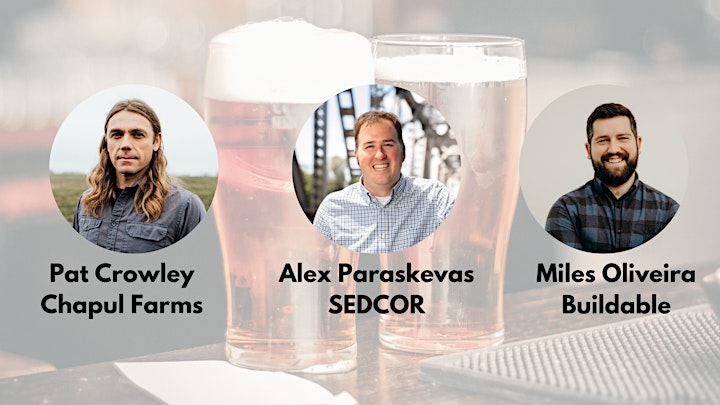 Organizer of Pub Talk: Innovation in Agriculture