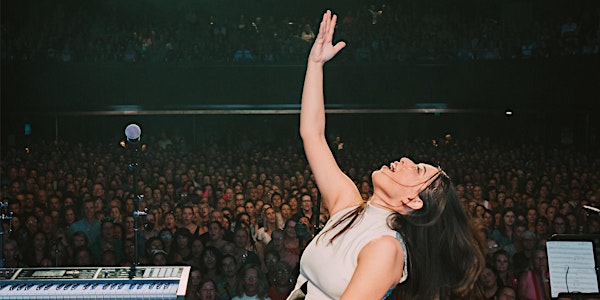 Pub Choir
Noise Pop Presents Pub Choir at Great American Music Hall
Date and time
Starts on Thursday, September 14 · 8pm PDT.
Location
Great American Music Hall 859 O'Farrell St San Francisco, CA 94109
About this event
Pub Choir is leaving the island known as Australia – a real place that definitely exists – and travelling a zillion miles to across the globe to sing with new friends in the UK and the US for their "This Worked At Home" tour.
What is Pub Choir? Only the wildest, happiest, largest, EASIEST music lesson in the world! Led by the living sunbeam, Astrid Jorgensen, learn how to sing a song from scratch and spend the night WORRYING LESS. You are good ENOUGH, we promise. You don't need to prepare anything, just come with an open mind and a willingness to try a new thing. Don't even worry about the song… our only request is 'no dickheads'.
Endorsed by the likes of Kate Bush, Mariah Carey, and Sir Barry Gibb (actual true stories) Pub Choir is a show that needs to be seen to be believed. Be a part of the magic as regular audiences of strangers are transformed into an incredible choir for one night only, as they belt out a well-known song in 3 part harmony. Let's just say, you'd be absolutely kicking yourself if you missed the show. Book a ticket and let off some yells with us?
By purchasing a ticket to Pub Choir, you consent to being filmed and recorded, with any resulting footage and audio used by Pub Choir for promotional and commercial purposes.
About the organizer
Concerts and events with your new favorite bands at venues all across the Bay.
Championing independent music and culture since 1993.