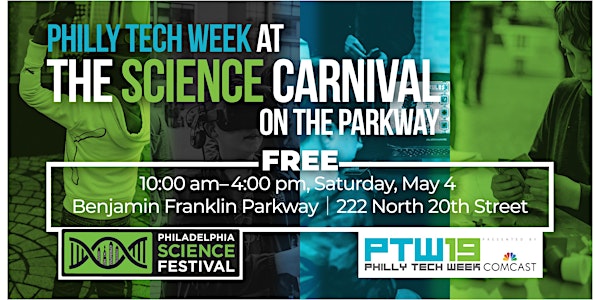 PTW19 at the Science Carnival on the Parkway
When and where
Location
Benjamin Franklin Parkway 222 North 20th Street Philadelphia, PA 19103
Description
Stop in to explore the world of code through fun, collaborative activities! Throughout the day, kids will get hands-on experience remixing classic video games. Using real code, algorithms and a little creativity, kids will customize apps and games that can be shared with family and friends.
In this activity, kids explore the basics of JavaScript coding to remix the classic video game, Pong. Kids will start by playing a
BSD
built version the classic video game - Pong. Next they will use BSD Online's code editor to customize their very own version of the game. Through self-guided exploration, participants will discover how small changes in the code can have a big impact on the game, from the size and speed of the ball and paddles to how the scoring works. After 3-5 minute test time, participants can create a free account on BSD Online where they can save their custom version of pong!
CS4Philly
will engage visitors to our tent in the mission of CS4Philly by inviting them to become signers of the CS4Philly "Bill of Rights." This document proclaims that all of Philadelphia's children and youth have the right to access the knowledge, skills, and abilities needed to be creators in the digital economy, not just consumers, and to be active citizens in our technology-driven world. CS4Philly will also make available materials from its partners about the CS programs they provide.