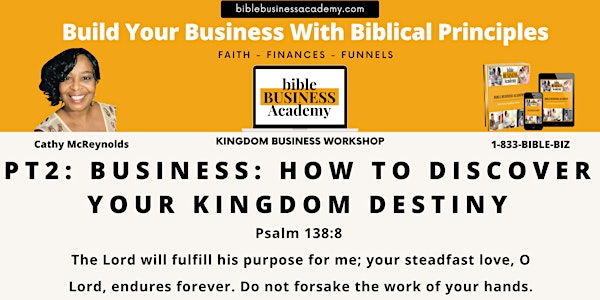 Pt2: Business: How To Discover Your Kingdom Destiny
Pt 2: Business: How To Discover Your Kingdom Destiny....A Lasting Crown
About this event
If you caught PT 1, you know the buzz so be sure to register for Pt2: If this is your first time seeing this, register for Part 2 and head over to Youtube to watch part 1 before next Thursday.
ABOUT THIS EVENT
I AM AFTER A LASTING CROWN:
Therefore I do not run without a definite goal;
I do not flail around like one beating the air [just shadow boxing].
But [like a boxer] I strictly discipline my body and make it my slave, so that, after I have preached [the gospel] to others...
I myself will not somehow be disqualified [as unfit for service]. 1 Corinthians 9:26-27
Just a reminder: we are talking about living out your Kingdom Business and life purpose here.
We aren't talking about a mere wish, but creating reality from an inspired idea. Your purpose is life-changing.
It's a God-given appointment to do something bigger than ourselves.
In John 15:16, Jesus says, "You did not choose me, but I chose you and appointed you that you should go and bear fruit and that your fruit should abide, so that whatever you ask the Father in my name, he may give it to you."
I lot of people, INTENTIONALLY focus on JUST the money, and you may want to get paid big, skip the 9 to 5 and forty-forty plan and be your own boss but if that's all you're aiming for you're missing out on the BIG PRIZE.
What if God choose you to do something BIG and you missed it for chasing after something that could change a generation.
Something that will be talked about not only by your children's children but the world....
Something that won't just benefit you but people around the world...
On Thursday, June 23rd at 7:00 pm est we will take a deep dive on, "How To Discover Your Kingdom Destiny." that is your purpose and how to create a lasting effect.
That's what it means when he says, "your fruit should abide."
When we begin to think this way, God gets behind our plans and begins to root us on. At that point, when you ask Him for things, "he may give it to you." So that instead of temporary riches and false gain, you'd have something that lasts forever.
Join us as we ask and answer the 5 most important questions to help you discover your Kingdom Destiny.
After registering, go to www.BibleBusinessAcademy.com to download a FREE report on, "How To Build A Business With Biblical Principles."