Sales Have Ended
Registrations are closed
Excellent! You are already registered to participate in the conferences on Psychology of Uncertainty.
Sales Have Ended
Registrations are closed
Excellent! You are already registered to participate in the conferences on Psychology of Uncertainty.
An innovative approach to turn uncertainty into an ally of personal transformation.
About this event
How to untie the knots of your present to transform your future.
Our possibilities for change are knotted to a variety of emotions and experiences. Change is usually defeated by fear, anxiety, frustration, anguish, among many emotional states generated by uncertainty. However, uncertainty is not a curse; it is a state of mind. Uncertainty is not an emotional state; it is the confrontation with a lack of references.
The emotions and words you deploy to deal with uncertainty define your possibilities to change in the face of the new. Limitations are part of the circumstances; limits are part of your fiction.
The inertia of the present is not the cause of the past; it is the consequence of the future. Change implies creating conditions to make the new possibilities in our lives. We tend to look into the past for the causes of our present; what we will share is a series of premises that reverse these interventions.
In these sessions, we will discuss:
Challenging the impossibility │October 19 │ (Recording)
The emotional oppression of uncertainty is a decision.
The hopelessness of the future and the reign of the past.
Untying the emotions and words that knot change.
Exercises and tips to transform inertia.
Unfolding change │October 26 │7 PM (Eastern Time)
Recover inspiration to mobilize change.
Expanding the range of emotional responses to change.
The strategy of subtleties to open up to the new.
Exercises and tips to sustain change.
These topics are based on the book The Uncertainty Game. This book synthesizes the research and previous books by Marcelo Manucci. He has dedicated more than 15 years working on the emotional approach to uncertainty to develop a process of personal transformation.
In these meetings, the author will present the topics, and then attendees will exchange questions and comments.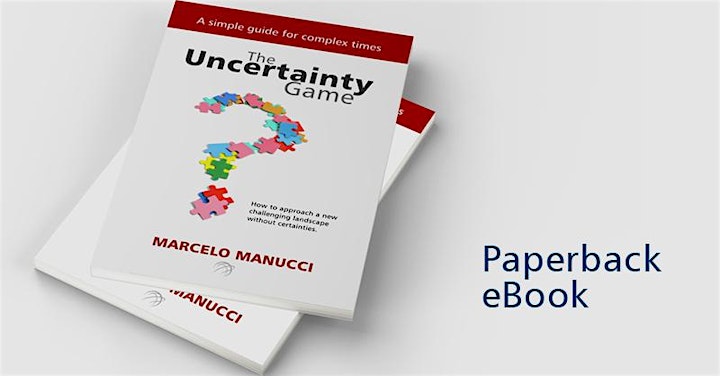 About Marcelo Manucci
International academic and consultant who has dedicated almost 20 years to the research of uncertainty from different disciplines. He is a psychologist and Ph.D. in communication with postgraduate studies in neurosciences. He works in universities in America and Europe and has written eight Spanish, English, and Portuguese books.
Organizer of Psychology of Uncertainty