Psychology and Learning Analytics Workshop
Psychology and Learning Analytics Workshop
About this event
Learning analytics uses data captured digitally during authentic learning activities to understand learning and knowledge processes. Psychology is concerned with understanding human brain, mind, and behavior. To date, there has been limited interaction between these two scientific communities. This workshop will explore ways to improve engagement between learning analytics and psychology, with the intent of creating clear and actionable research agendas.
The event will focus on:
What learning analytics researchers can learn from psychology regarding research practices, including methodology and open science.
What psychology researchers can learn from data science and learning analytics methodologies.
Given the growing prevalence of digital data about human interactions in online courses and social media, this important event will set a foundation for future engagement around how data, analytics, and AI can advance our understanding of learning and the conditions under which it occurs.
Event speakers will include:
Caitlin Mills, Assistant Professor of Psychology, University of New Hampshire
Nigel Bosch, Assistant Professor of Information Sciences and Educational Psychology, University of Illinois at Urbana-Champaign
Katie McCarthy, Assistant Professor of Educational Psychology, Georgia State University
Danielle McNamara, Professor of Psychology and Director of the Science of Learning and Educational Technology (SoLET) Lab, Arizona State University
Stephen Aguilar, Assistant Professor of Education, University of Southern California
More information can be found at https://learninganalytics.net/psyc-la/
This event is organized by the Master of Science in Learning Analytics Program in the Department of Psychology at the University of Texas at Arlington. If you have any questions about the event, please contact Justin T. Dellinger at learninganalytics@uta.edu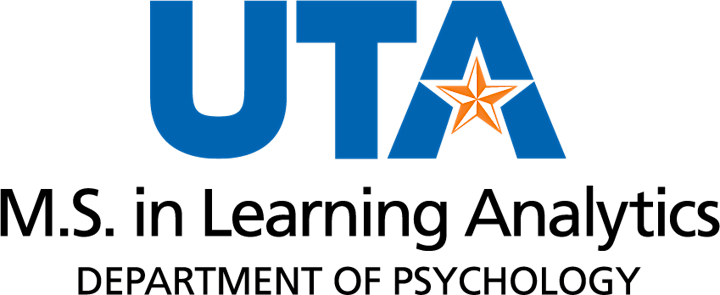 Organizer of Psychology and Learning Analytics Workshop