Celebrate the HIGH ENERGIES of the Full Moon at our PSYCHIC FAIR on Sunday, June 27th from 12-6 pm with local vendors and wellness guides!
About this event
Did you know that we can harness the high vibrations of the full moon up to 3 days afterwards?
Join us on Sunday, June 27th for a PSYCHIC FAIR with our local vendors, intuitive readers and wellness advocates!
We have a handful of new local craft vendors joining us as well as our team of energy workers and artisan creators!
👉2 Community Yoga Classes @ 9-10 am @ 5-6 pm
👉Guided Sound Meditation @ 6:30-7 pm
👉Oracle & Tarot Readers
👉Reiki & Sound Healing
👉Local Crafts & Yummy Treats
👉Herbs, Succulents & Money Trees
We are grateful, thankful and blessed for your continued support and participation in our classes, events and wellness treatments!
Open M-F from 12-6 pm and Sat/Sun from 10-6 pm!
Download 'The Crystal Bowl' from the AppStore for direct access to our offerings and scheduling your appointment!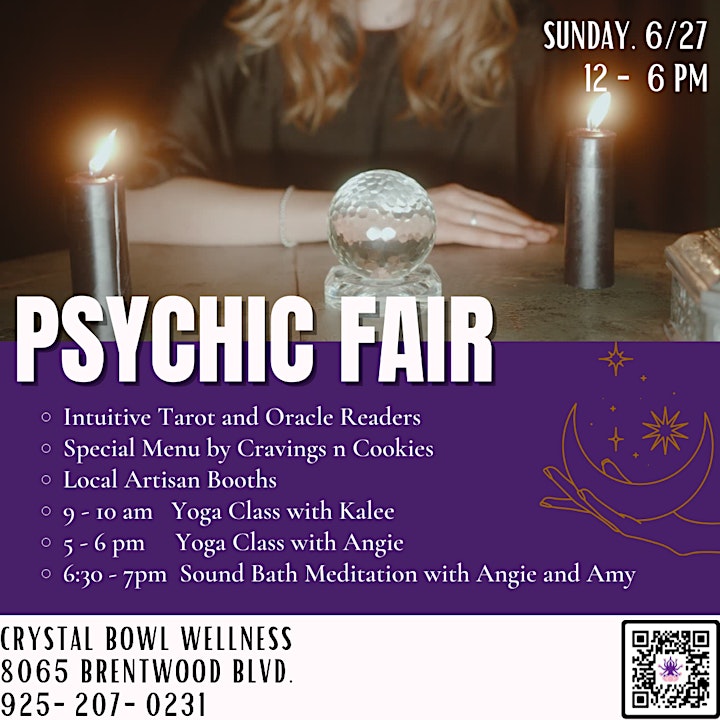 Organizer of Psychic Fair
We are your local holistic wellness center featuring metaphysical products such as crystals, incense, sage, energy-infused candles, essential oils, altar cloths and tapestries, himalayan salt lamps, prayer/meditation beads, gemstone jewelry, meditation tools, self-help books, spiritual decor and the like.
Our holistic treatments include sensory deprivation (flotation) therapy, red light and vibration therapy, acupressure, reflexology, EFT (tapping), massage therapy including hot stones, crystal light and raindrop technique. Onsite healers are available for energy clearings, chakra and aura readings, oracle and tarot cards, soul path and past life regression, aromatherapy, personal development/coaching, reiki/pranic healing and attunements, soul sketches, business/home clearings and hypnotherapy.
We have a wellness studio with yoga, tai chi, qi gong and meditation classes as well as events and celebrations throughout the month. Get our current schedule on our app, Crystal Bowl, from your app store!
We offer events throughout the month such as Introduction to Crystals, Introduction to Essential Oils, Twin Hearts Guided Meditation (weekly), Getting Unstuck and Life Reinvention, Organic Living, Wellness Management and many more!