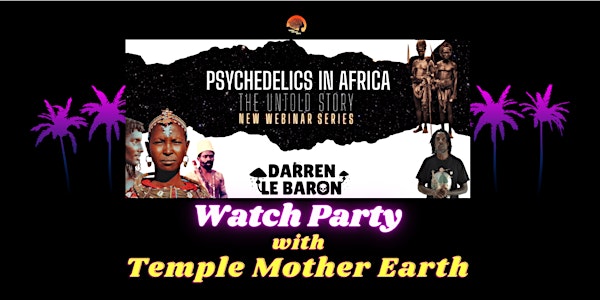 Psychedelics in Africa: The Untold Story Series 3
Temple Mother Earth is inviting everyone to come and join us for this enlightening talk about the history of psychedelics in Africa.
Date and time
Wednesday, June 7 · 6 - 8pm EDT
Location
2415 32nd St SE 2415 32nd Street Southeast Washington, DC 20020
Refund Policy
Contact the organizer to request a refund.
Eventbrite's fee is nonrefundable.
About this event
Psychedelics in Africa: The Untold Story Series 3 with Darren Le Baron @TempleMotherEarth WATCH PARTY
Date: June 7, 2023, at 6-8PM
📌Sign-up now:
$20 - Online
(the Zoom link will be provided via email after you purchase the ticket)
$30 - In-person w/ food
All ticket sales will be used to continue to run the Temple Mother Earth in celebration of Black History Month:
It's the third wave. A new wave of research that puts psychedelic medicine forward as a strong candidate for the treatment of mental health. While decades of clinical trials have produced consistent results of positive outcomes, what is the origin story of this medicine?
While my relationship with psychedelics has been personal and profound, it was this question that sparked my journey towards the truth.
It is now time for the Lion to tell his own story, the hunters version is played out. So let me ask you...
Are you interested in how psychedelics have been used for tens of thousands of years on the African continent, and how they continue to support societies today?
Although rarely recognized by researchers and scientists, fungi and plants have been used by the earliest indigenous people of Africa for spiritual and community development for a millennia. Several African communities continue today to use these sacred plants in their rites of passage, initiation ceremonies and daily rituals.
Join me in this series to learn the incredible history and the enriching stories of psychedelics in Africa. I will share my research, knowledge and experience through the lens of ancient history, mythology and scientific studies.
ORDER NOW to join me, and let's build a new community for this new online series.
Season One
Starting May 14, 2023 - https://bit.ly/PsychedelicsinAfricaTheUntoldStorySeries1
Season Two
Coming May 24, 2023 - https://bit.ly/PsychedelicsinAfricaTheUntoldStorySeries2
Season Three
Coming June 7, 2023 - https://bit.ly/PsychedelicsinAfricaTheUntoldStorySeries3
Darren Le Baron is a grass-roots researcher and event organizer based in London, the Director of Ancient Future, the Convenor of the Psychedelia Railway Gatherings and curator at Earth Tone Arts. After setting up Ancient Future in 2006, a voluntary organization, he has continued to develop workshops and projects geared around creative arts, personal-development and African-Caribbean spiritual systems in his community. Collectively his work aims to inform and empower individuals from diverse backgrounds to cope with social challenges and contribute to community development as well as self-improvement in an innovative, creative, culturally-aware style.
He has presented at the Breaking Convention in London, the Detroit Entheogenic Conference, Ozora in Hungary, Altered in Berlin and numerous consciousness gatherings around Europe, the U.S and Africa. Darren is a knowledgeable and dynamic speaker who is passionate about sharing his research on African Entheogenic plants and their various applications on the continent and the diaspora. By day Darren is an Organic Horticulture and Food Enterprise tutor and teaches young people in east London. He's also a keen mushroom grower and for the last seven years has been growing edible mushrooms and has translated his home growing experience into a commercial experiment.
About the organizer
Welcome to @TempleMotherEarth!
We are an international Temple of consciousness, spiritual learning and healing center, focused on providing the community with service, education, spiritual fellowship, healing practices, guidance, kemetic teachings, plant medicine expansion, ayurvedic medicine and earth medicine healing.
501C3 approved + With various providers for healing: Health is our greatest wealth Hypnotherapy/ Psychotherapy Sounds healing /Yoni steam / Reiki Beekeeping / gardening /Meditation Yoga / bodyworkers/ tantric practitioners / Qi Gong / crystals work / Numerology / ColorOlogy / womb work / mirror work / daily practice / Kambo / sacred ceremony Et el
FB: https://www.facebook.com/groups/TempleMotherEarth/
Telegram: https://t.me/templemotherearth
Discord: https://discord.gg/qBKfvBjRcc
Mother Earth Tribe is a life-changing community so you can, deepen your spiritual practices, be witnessed, seen, heard, + supported, create space to connect inwards with your true self & intuition. We feature trusted experts, transformative tools and free virtual workshops that you can access anywhere in the world. With new members joining each day, we think you might like it too.