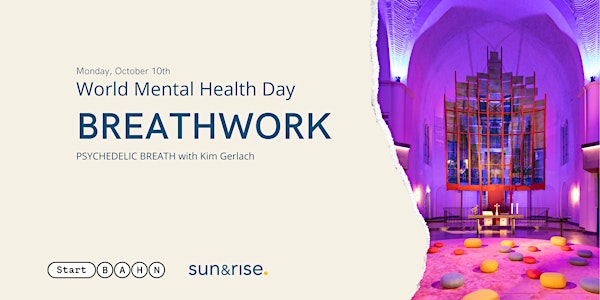 PSYCHEDELIC BREATH - breathwork at Startbahn
Through this breathwork technique, PSYCHEDELIC BREATH, we will explore deep states of altered consciousness.
When and where
Location
Startbahn Herrfurthpl. 14 auch bekannt als Ev. Kirchengemeinde Genezareth 12049 Berlin Germany
Refund Policy
Contact the organizer to request a refund.
About this event
On Monday, Oct 10th is World Mental Health Day and we're inviting you to tap into your mind and consciousness through breathing.
About PSYCHEDELIC BREATH
Through the art of breathing consciously, psychedelic breathing supports our exploration of non-ordinary states of consciousness and invites us to look within to find our own wisdom – without requiring mind-altering substances.
From a scientific perspective, this kind of breathwork supports your resilience via strengthening the autonomous nervous system. It also has several other beneficial effects on the physical, neurological, psychological, and emotional levels.
About this session
Let Kim Gerlach guide you through a deep 90-minute breathwork experience often described as transformative and awakening. The breathing journey is will be supported by scent and electronic music.
The location, Startbahn, is at the heart of Neukölln and the perfect venue. It provides an amazing energy and atmosphere to tap into our mind.
About Kim
Kim Gerlach, she/her, is a scent practitioner and breathwork teacher. She has certificates in pranayama breath by YogaBody and PSYCHEDELIC BREATH by Eva Kaczor. Currently Berlin-based, she is sharing these tools to let participants access inner wisdom. Find her on Instagram as @kim.gerlach.sunandrise
Contraindications
PSYCHEDELIC BREATH® is a powerful breathwork practice that is not recommended for the following conditions: pregnancy, epilepsy, high blood pressure, cardiovascular disease, high inner eye pressure, detached retina, clinical anxiety or panic attacks, psychosis, a history of stroke, recent surgery (wounds, broken bones still healing).
By purchasing a ticket you confirm that you are healthy.