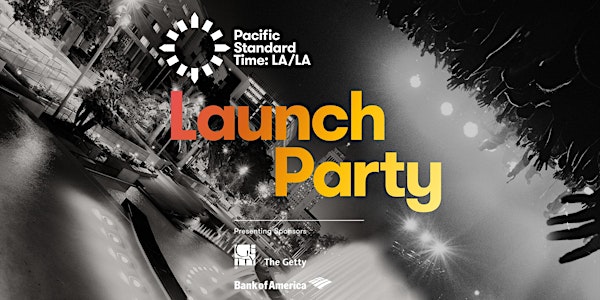 PST: LA/LA Launch Party
When and where
Location
Grand Park LA 200 North Grand Avenue Los Angeles, CA 90012
Description
Celebrate the launch of Pacific Standard Time: LA/LA with a free day-long party in Grand Park featuring live music and dance performances, activities, giveaways, photo opportunities, food, drinks and a chance to plan your itinerary for Southern California's largest arts experience!
Performances:
12PM – Ori
The party kicks off at noon with an exciting lineup of music and dance performances by Ori, presenting an exploration of ancestral and modern folk music from Latin America, with an emphasis on Afro-Cuban and Brazilian dances. The performance will exhibit the parallel relationship between the rhythmic dances of the African Diaspora and the Romani Gypsy Diaspora in the Americas, and how these ancestral stories have transcended time with a Los Angeles perspective. The performance features dancers Cristina Lucio, Rachel Hernandez and Kati Hernandez, singer Dana Maman, and musicians Alberto Lopez, Gabriel Osuna, Kahlil Cummings, and Gerardo Morales.
6PM - DJ Cee Brown featuring Aponte
The musical entertainment heats up again as the sun comes down, when DJ Cee Brown takes the stage, accompanied by Aponte. Inspired by Afro-Caribbean sounds, Cee Brown is one of the co-creators and resident DJs of BODEGA, a warm and welcoming dance party focused on Afro-Latin vibes. He is joined by his fellow Flowers RDM co-creator Aponte, an Official Latin Percussion (LP) sponsored musician who has been called the future of Latin sounds, fusing Salsa, Hip-Hop, Reggaeton, Soul and Jazz.
8:30PM – Quantic Live
A multifaceted, truly global artist, Quantic Live leads the way in blending the sounds of Global Dance music with the powerful, iconic rhythms of Tropicalia, Cumbia, Soul and Salsa. With a move to Cali, Colombia in 2007, Quantic explored an ardent interest in tropical rhythms of the region and it was there he established his Sonido del Valle studio. His sound embodies L.A.'s unique role as the crossroads of Latin, electronic, and global dance music.

All-Day Activities:
Themed food trucks will be available all day. Cash bar will be available beginning at 5pm.
A pop-up installation and social space will offer the public a comfortable and stimulating vantage point to savor the sights and sounds of the party and provide a jumping off point for all of the PST: LA/LA exhibitions and programs offered throughout Southern California. The ¡Momento! pop-up pavilion offers an information kiosk, a "reading room" of exhibition catalogues, and a relaxing place to gather.
An immersive "All Hands on Deck" workshop features cards representing each of the exhibitions in PST: LA/LA. Visitors can build their own unique structures, work on several collaborative mega "card houses" on site, and take home a limited set representing the PST: LA/LA experiences they hope to attend soon.
In addition, guests can explore the traveling PST: LA/LA Mobile, which will feature a customizable selfie station and interactive technology to get a sneak peek at the many cultural institutions and works of art to be discovered during PST: LA/LA.
(¡Momento! is designed and built by the LA design and architecture practice Spinagu; "All Hands on Deck" is designed by artist educator Marni Gittelman; Both projects are curated and produced by LA's homegrown innovators for public space – Community Arts Resources (CARS))
About Pacific Standard Time: LA/LA:
Pacific Standard Time: LA/LA is a far-reaching and ambitious exploration of Latin American and Latino art in dialogue with Los Angeles taking place from September 2017 through January 2018 at arts institutions across Southern California.
Through a series of thematically linked exhibitions and programs, Pacific Standard Time: LA/LA highlights different aspects of Latin American and Latino art from the ancient world to the present day. With topics such as luxury objects in the pre-Hispanic Americas, 20th-century Afro-Brazilian art, alternative spaces in Mexico City, and boundary-crossing practices of Latino artists, exhibitions range from monographic studies of individual artists to broad surveys that cut across numerous countries.
Supported by more than $16 million in grants from the Getty Foundation, Pacific Standard Time: LA/LA involves more than 70 cultural institutions, from Los Angeles to Palm Springs, and from San Diego to Santa Barbara.
Pacific Standard Time is an initiative of the Getty. The presenting sponsor is Bank of America.
Visit pacificstandardtime.org for more information.

The Pacific Standard Time: LA/LA Launch Party is a collaboration between Pacific Standard Time: LA/LA, Grand Park, The Music Center, OMD/Ignition Factory, Community Arts Resources (CARS), Spinagu, and Zynger Events.